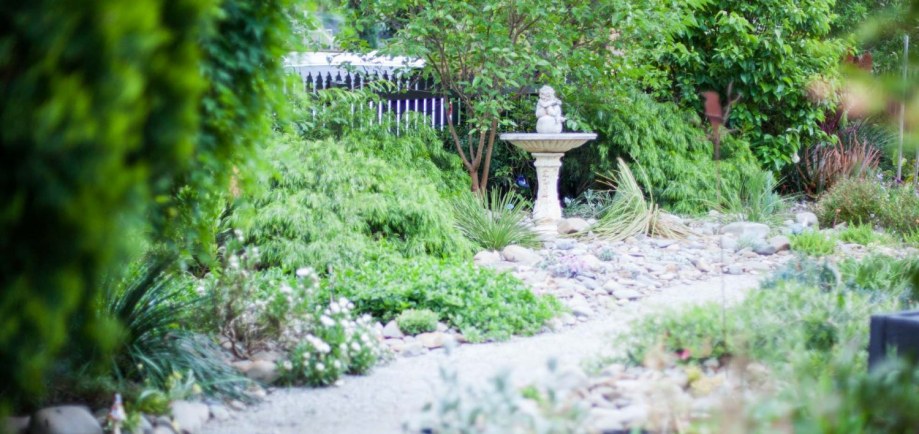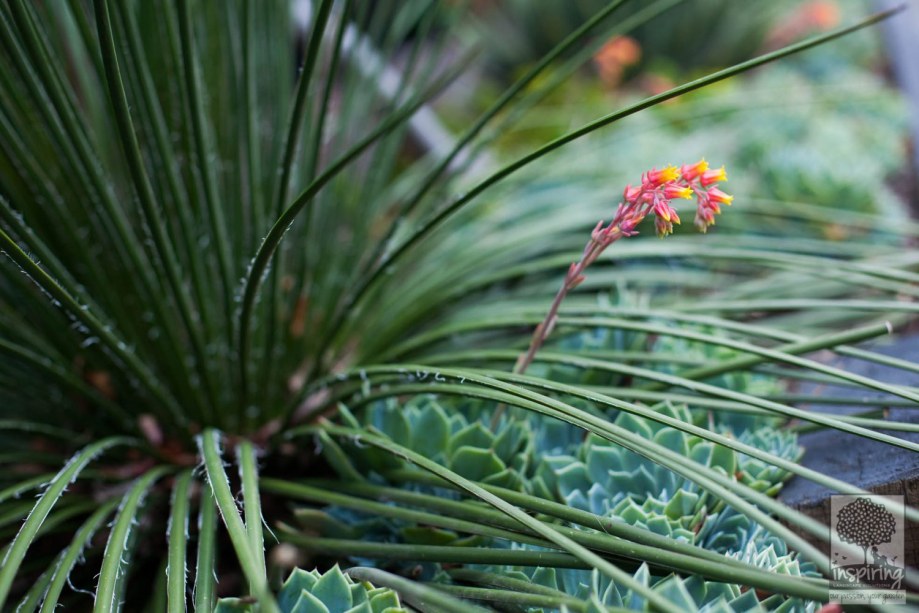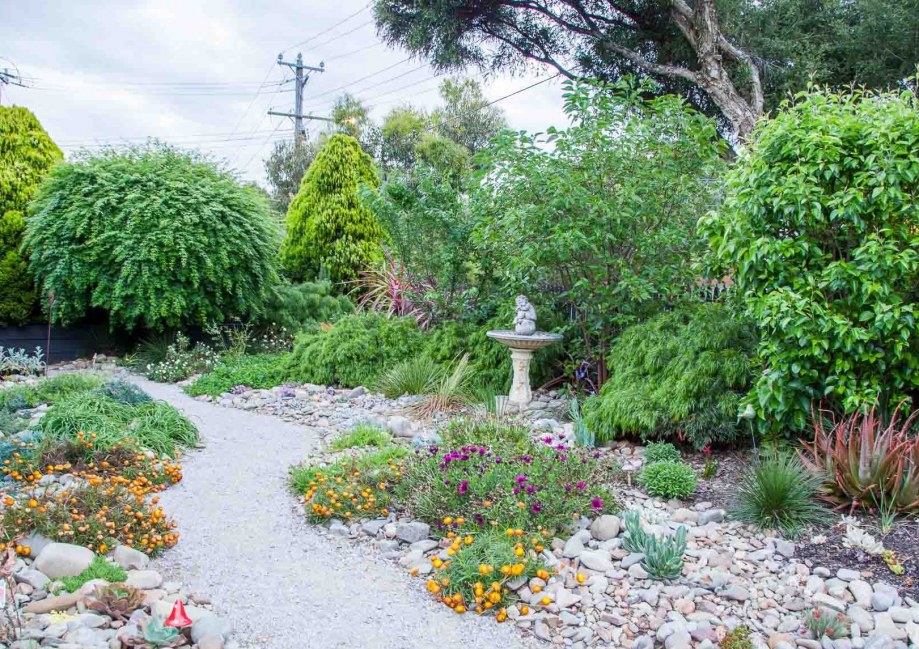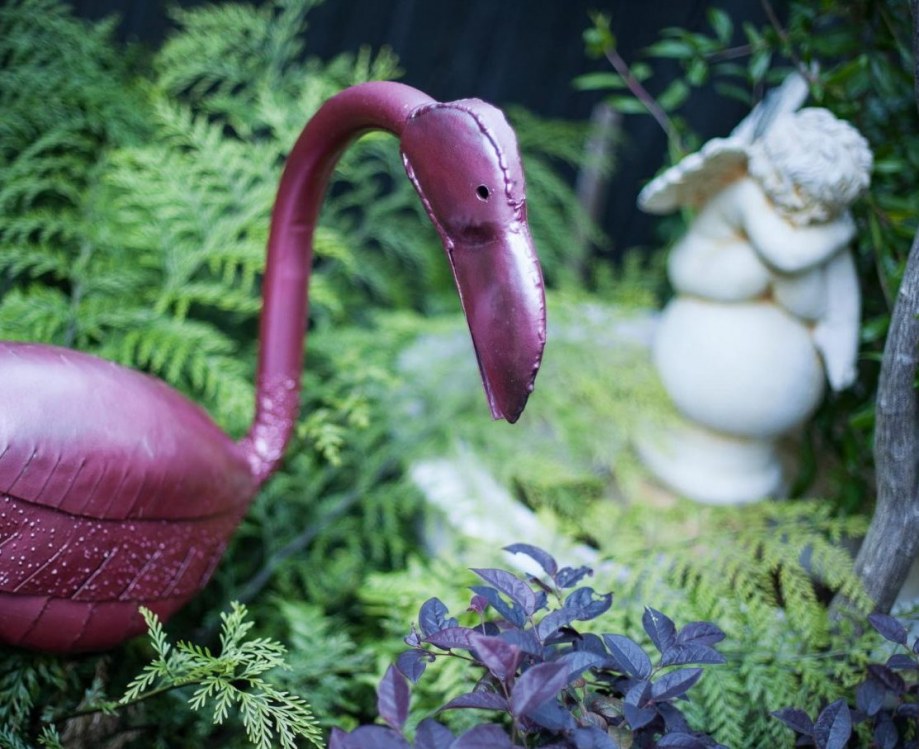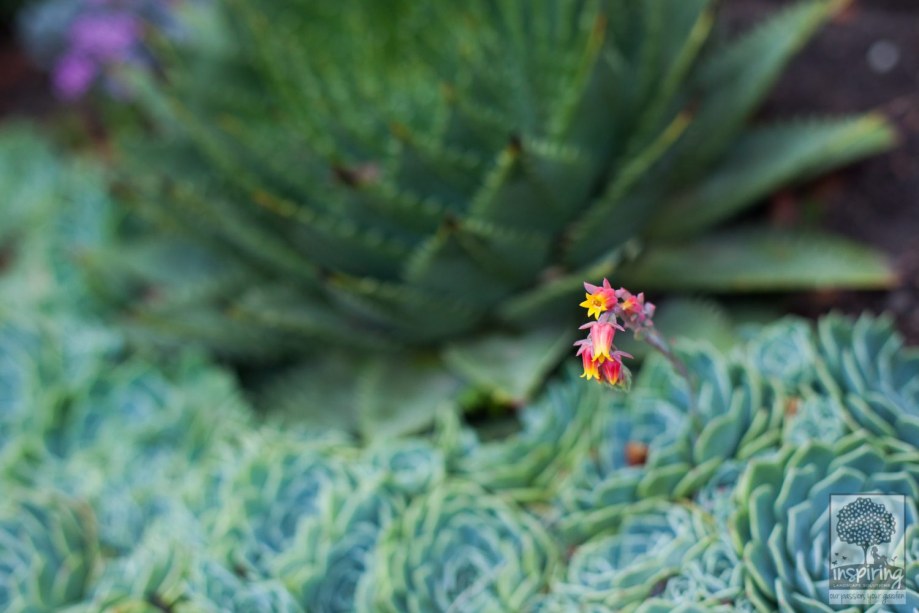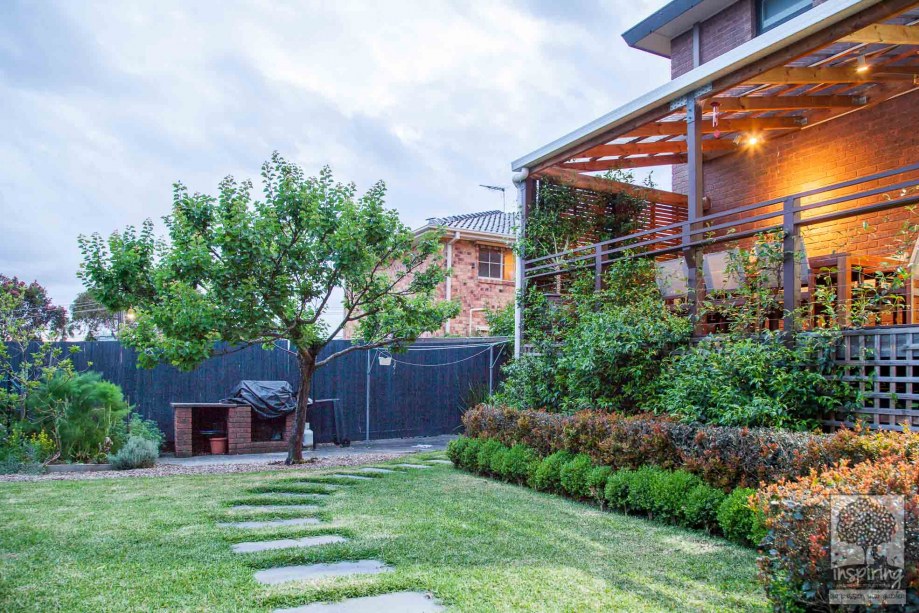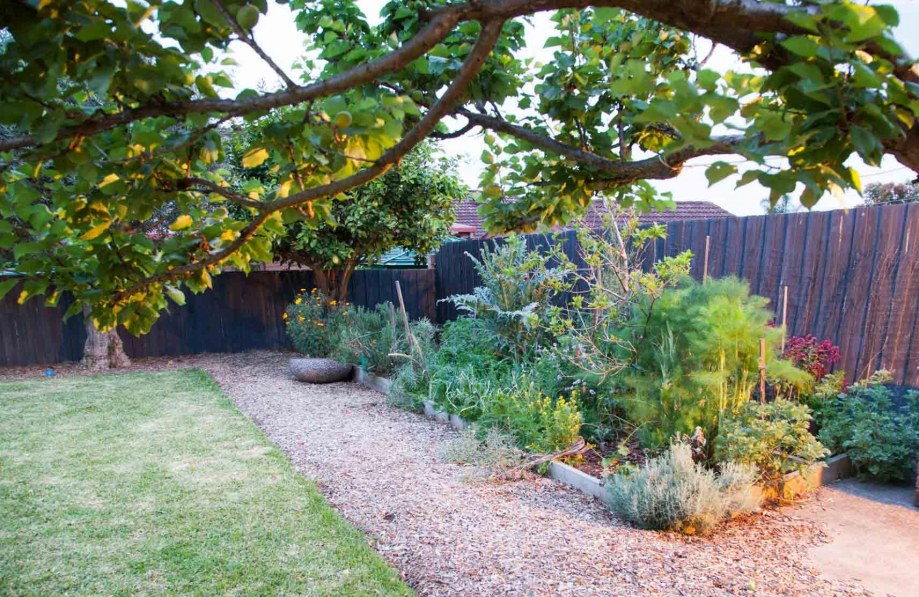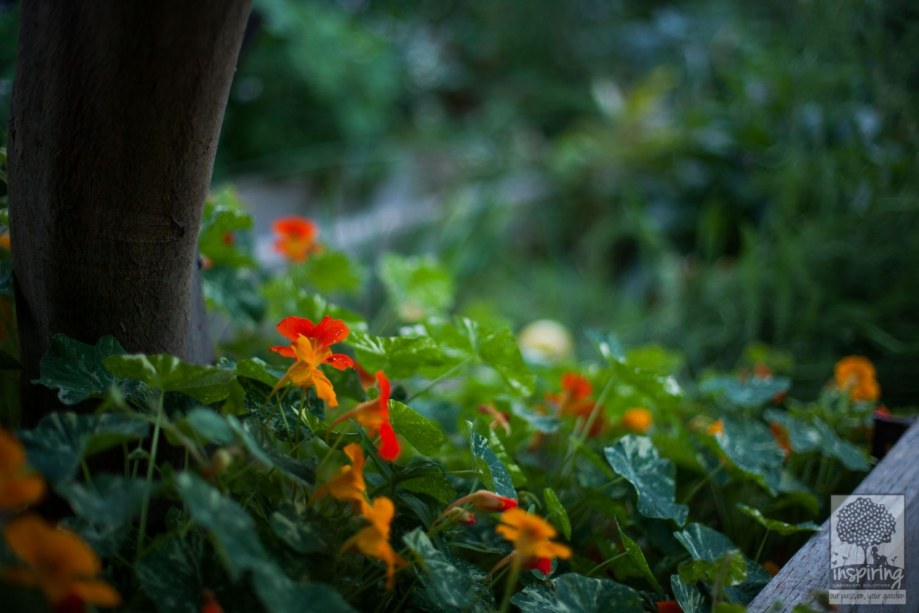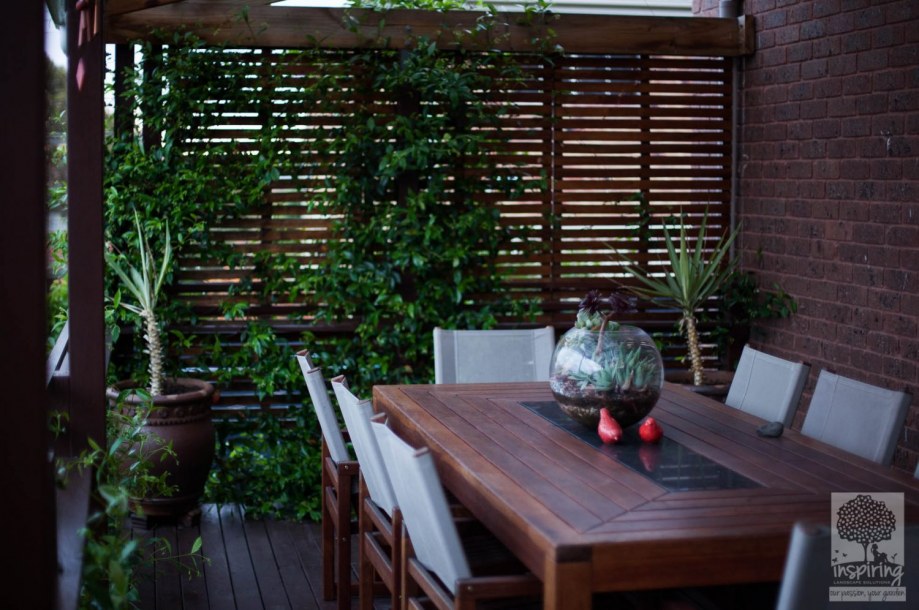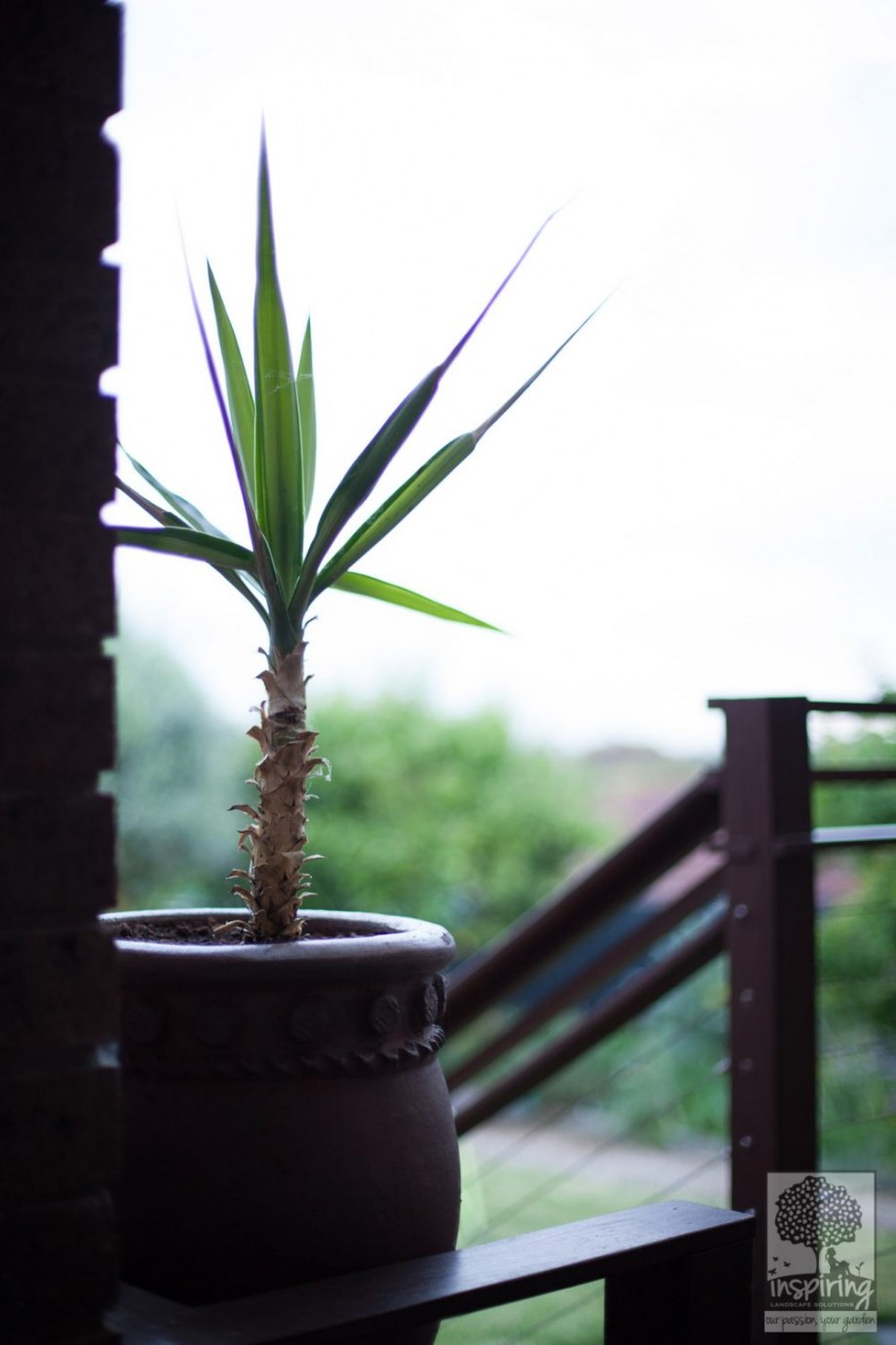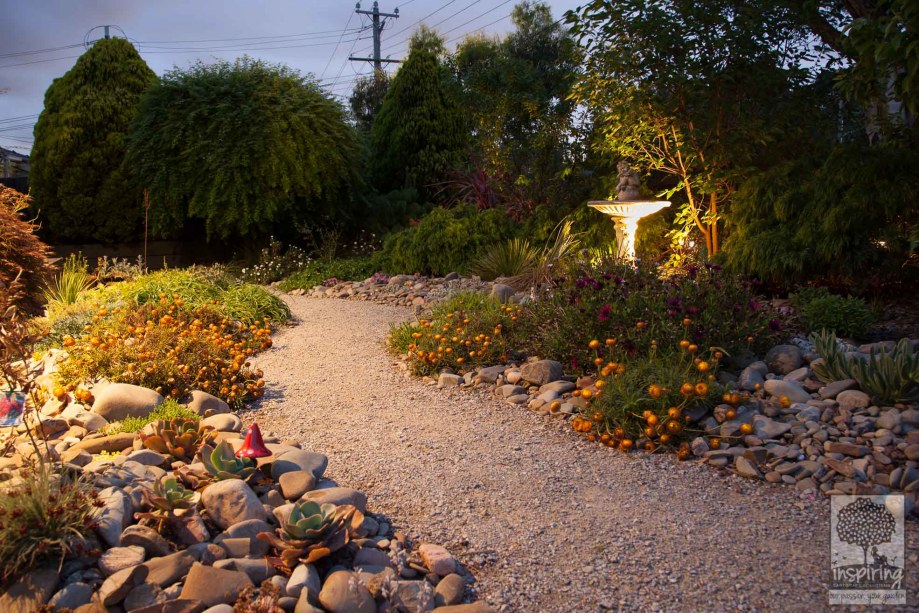 Vermont South A
Self-sustaining Compatability!
Vermont South project completed January 2012.  Design, plantscaping and construction completed by Inspiring Landscape Solutions.
Project Brief:
to create a garden to tinker in and have the kids running around madly having fun;
preserve as much of the existing landscape as possible whilst improving on the colours and textures;
make it aesthetically pleasing and uniform;
seasonal interest; and
minimalist irrigation with occasional hand watering;
to plant as many different types of fruit trees and complementary plants as possible to arrive at a tropical garden feel.
Project loves:
the cohesion of the aesthetics and productive nature of their garden;
their enthusiasm in keeping the garden maintained;
this is a non-irrigated garden;
continually adding to their garden via garden ornaments or new plant experiments!
The video shows snippets of the garden in 2014.  Recent pictures were taken in November 2017.
I got Parveen around for the initial home visit about my backyard design. I thought i gave her an impossible task of fitting everything into a small space including a caravan! Parveen came up with some great ideas to bring it all together and I cant wait to see the final design!
Robert Porter
Very happy with this service. Parveen really took the time to review and analyse my garden needs and ideas and provide me with a design that will create the environment I love to spend time in. 😊
Stacey Barlow
I highly recommend Parveen for anyone seeking a landscaping design. Parveen asked a number of questions to ascertain what plants and other garden elements I liked and created a beautiful, detailed design that I can't wait to implement in my garden. Parveen was very prompt in all her emails and appeared to be as excited as planning a garden as I was. Thank you so much Parveen.
Katherine Scott, WA
Parveen did an excellent job, very hard working and provided a lot of advice on what to plant where - she really knows her plants.  I felt very comfortable dealing with her and the courtyard looks great already.
Richard Kevan
We found Parveen after contacting many local designers and finding they were either way out of our budget, or just never responded to our enquiry. Parveen has wonderful prompt communication skills and worked with us to come up with a solution that fit within our budget. She carefully considered our design brief and took into account several aspects that we hadn't even thought of.  She had great attention to detail and has lots of creative ideas, and nothing was too much trouble for her. We are very happy and wouldn't hesitate to recommend her!
Sophie Bass
Great experience dealing with Parveen. She is now putting me in contact with all relevant people to get the project moving forward and I'm really looking forward seeing the results of a new exciting landscape! Awesome!
Helene Pouwels
We enlisted Parveen from Inspiring Landscape Solutions to design a front garden bed for us. From the beginning nothing was ever too much trouble, there was many emails back and forth to make sure we both had the same vision. The finished result is a beautiful, modern garden that suits the surrounding area and our taste. Thank you Parveen for helping to transforming our garden.
Janelle Haynes
Thank you my dear friend Parveen (Inspiring Landscape Solutions Pty Ltd) for all the help and suggestions!!!
Kenneth Lim
I engaged Parveen to come up with a landscape design for our front and back gardens. Parveen was very receptive to my ideas and incorporated them into the design, making suggestions where she thought was appropriate but was not pushy about them. She is flexible as to when to meet for discussions and is genuine in her want to help her customers come up with a design within budget and style.
J. Tan
I found Parveen to be very professional in all of her dealings and communicates things on a timely basis. I feel she goes out of the way to ensure that things are properly done (with a fine eye) and is very respectful of our premises/belongings. She's very hands on and was present onsite throughout the construction to ensure that things were done in accordance with the plan she designed. She organised everything for us – the trades, artwork, ancillary materials etc so we didn
't have to worry about the project at all. She was very pleasant to deal with and offers great suggestions which are practical, beautiful and cost effective. She also provided us with a maintenance regime for our plants and artwork/water feature which were out of the scope of the project. Therefore, we were not left unknowing at the completion of the project. She also provided us with useful suggestions on outdoor styling which we will put to use in the future! We now have a modern garden which can be enjoyed inside and out and a frontage which sets us apart from the rest of the street!
Looking forward with working with Parveen again! Thanks Parveen.
Dominic Zheng
Follow us on social media
Skills:
Artwork Selection, Colour Selection - exterior &/or interior, Design Implementation, Garden Maintenance, Landscape Design, Plant Selection, Rejuvenation, Water features