The brief
When Cate contacted me, she wanted a garden that would suit her lifestyle and lift her space. Her impeccable taste in her newly-renovated townhouse and incredible interior detail helped shape the outdoor design.
Cate wanted a garden that would flow with the exterior and could be enjoyed both during the day and at night.
It had to feel modern and create an urban oasis of lush plant life so she could enjoy it at all times of the day.
Our Hawthorn garden design
From the garden's shadows on her window furnishings to the cheerful faces of the clivias and hibbertias that bloom in spring and summer, Cate loves what she's been able to create.
She comes home smiling at her very own piece of paradise after a hard day at work!
We playfully incorporated sculptural detail not only in the use of different planting textures but also in a vivid red metal artwork in Cate's choice of pattern to add vigour and detail into her garden spaces.  Cate certainly loves her reds and blues and we love it that she does!  It's very her!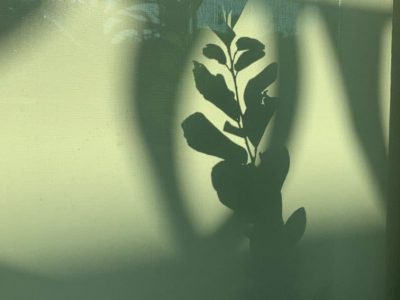 We selected plants that appealed to her and that would work with the overall look and result that Cate wanted to achieve.  For the rear courtyards, we kept the shape of the existing garden beds as it's shape made a lot of sense and actually made the courtyard larger than it was (and less angular).  We incorporated raised garden beds to address the extreme macroclimate in her living spaces (heat).  Both the front garden and rear garden get a lot of sun (minus) the frost and we had to give a lot of thought into her planting scheme to make it all work.  Cate loved her lemon and lime trees which give her abundance and we incorporated these existing trees into the final design.  There was also a couple of pest issues we tackled, successfully, to prevent further damage to her lemon tree.  Whatever that was attacking it and stripping its bark, is now finally gone.  Thankfully!
The scope of the project was extended twice – to resurface the frontage steps and to modernise it.  In order to achieve that we researched paving material that would tie into the rest of the renovation (house and garden).  To top if off, we added a little bit of night glamour by incorporating LED strip lighting into the steps.  It works with a movement and day/night sensor so her garden lights up when people passby or visit her.  Giving her the garden wow she so rightly deserves! 🙂
The final phase was to add a garden mural (discussed further below).
Eighteen months on, all plants are now thriving, supported by an automated irrigation setup so that it can function on its own when Cate is away for work or her many travels!
Dramatic night lighting for Hawthorn East Garden Design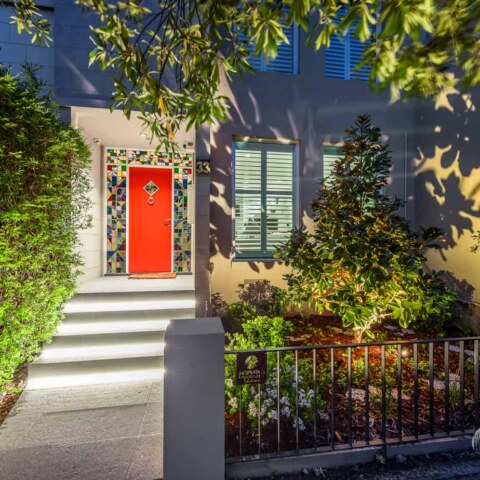 Hawthorn East rear courtyard landscape design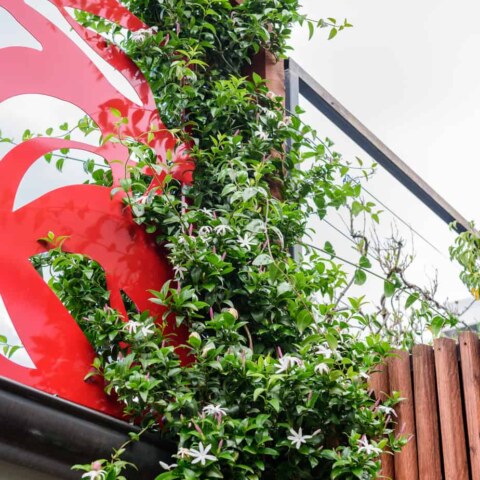 Living area view of rear courtyard in Hawthorn East Garden Design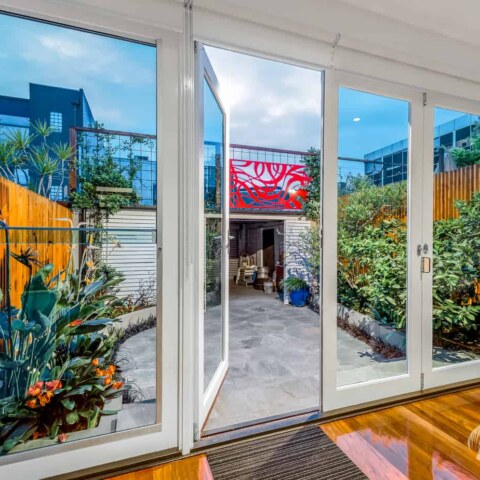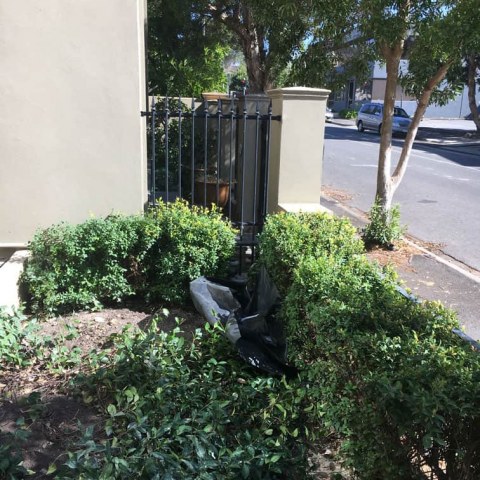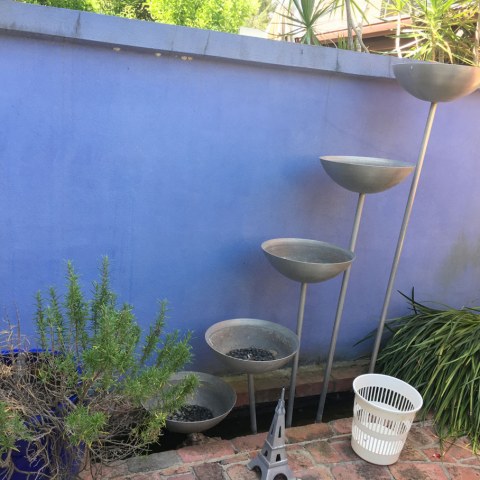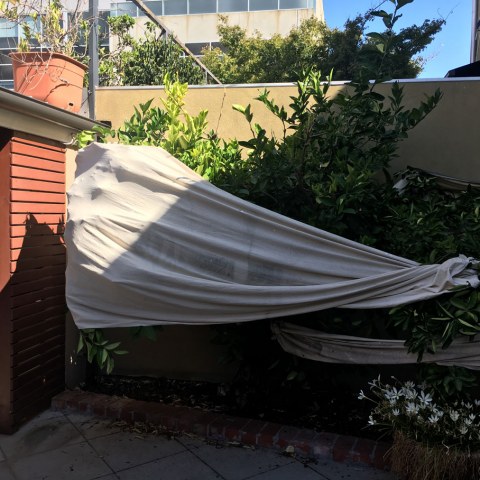 In the many years, that I have known Cate, it's her sense of playfulness and adventure that has made this project really fun for me.  Everything about her interiors and the way things come together functionally is quite well thought and practical (and not to mention tasteful!).  She always takes in  my ideas with great delight and finishes it off smiling and telling me to "have a little fun"!
This is exactly what I tried to create and reflect in the mural of Cate's garden on her garage door.  From penguins that reflect her garden ornaments (and remind her of her many trips abroad), to elements in her garden that she deeply enjoys!
Her neighbours too have enjoyed the process of creating the mural and passersby – all love it because it's colourful, different and more importantly, FUN :)!
Custom handpainted mural for Hawthorn East Garden design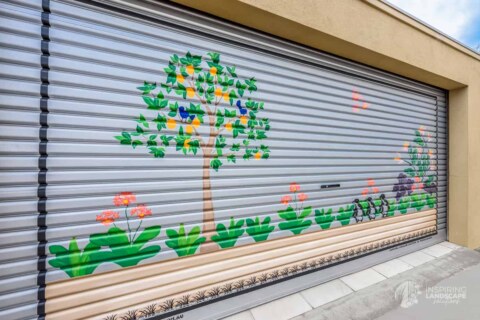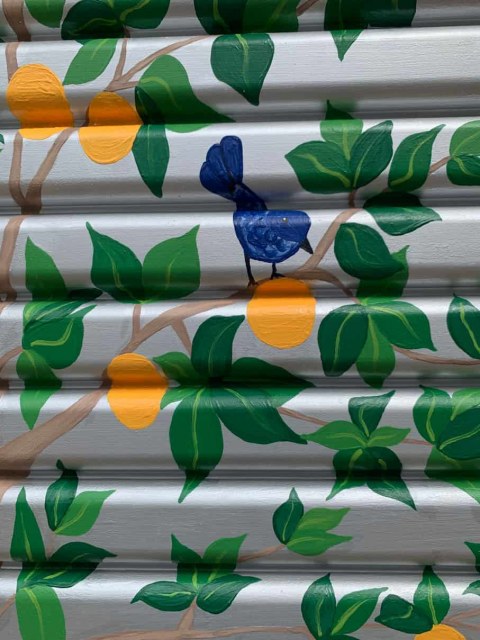 Penguin and bird of paradise in handpainted mural for Hawthorn East Garden design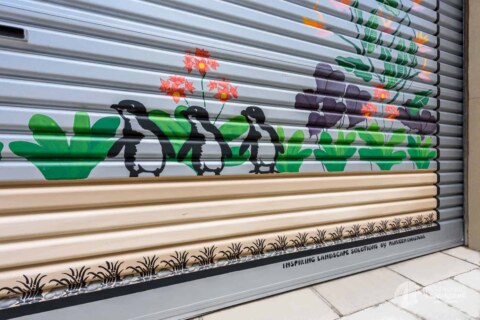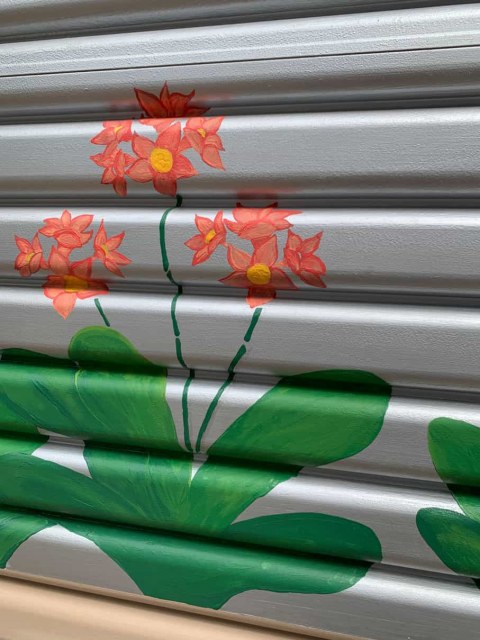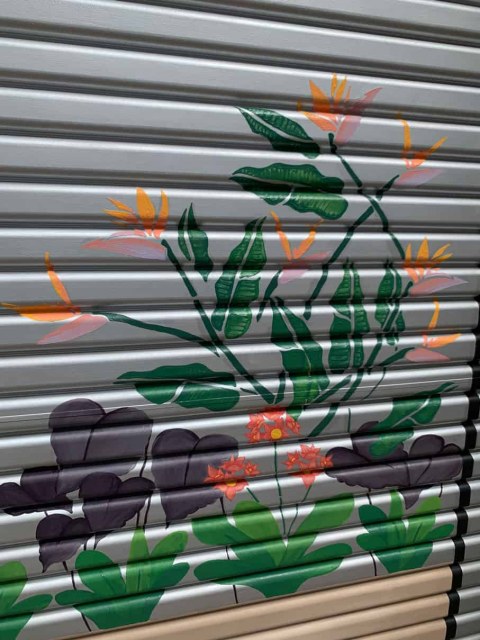 Arabesque pavers in Hawthorn East front courtyard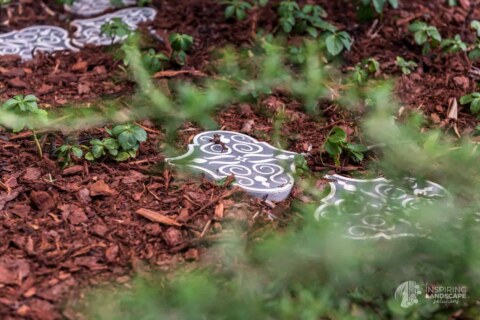 Clivia flowers in Hawthorn East Garden Design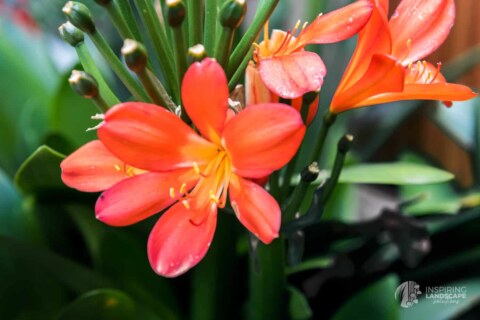 Custom metal signage in Hawthorn garden design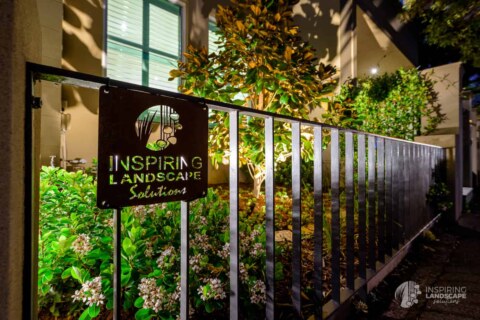 Penguin metal garden stakes for Hawthorn East Garden design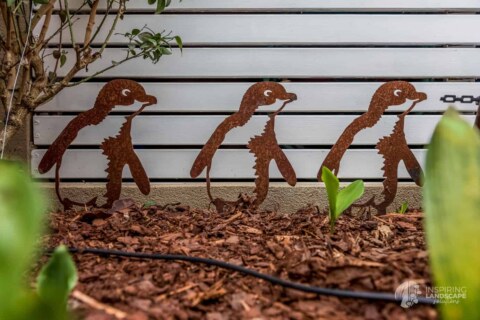 A bird of paradise flower in Hawthorn East Garden Design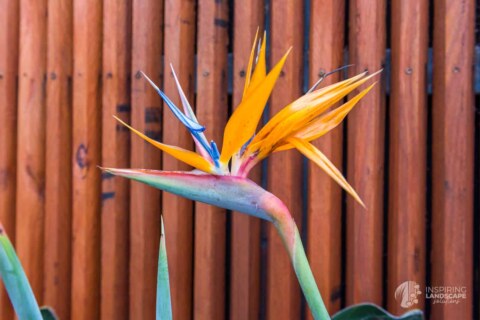 Textural planting cluster in Hawthorn East Front Garden Design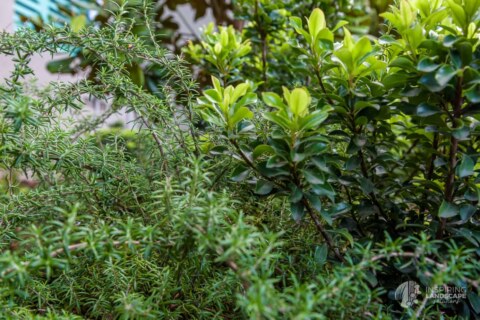 See how our Hawthorn garden design was actually transformed into Cate's dream garden.  Discover the key elements that contributed to this transformation!
Other resources
Hungry for more information on whether we are the right landscape designers for you?
Then check out our process and design philosophy to find out more about what makes us tick!
We have been awarded with the Houzz Best of Service 2020 award.
Editorial note – names of the clients have been reflected as per their preference and, at their request, to protect their privacy.  Professional shots of this design will be undertaken around October, 2020.
View from garage of Hawthorn East Garden Design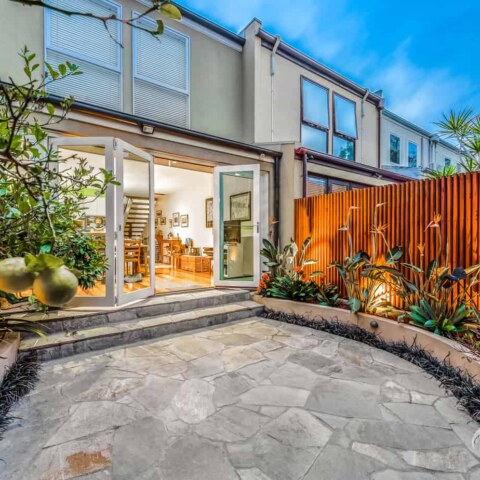 Hawthorn East Rear Courtyard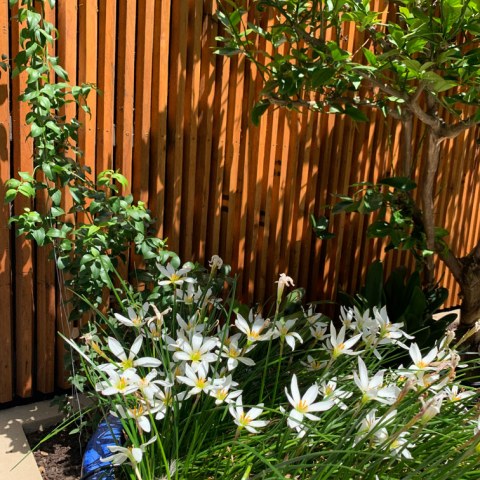 Hawthorn East 3D Elevation Landscape Plan Front Garden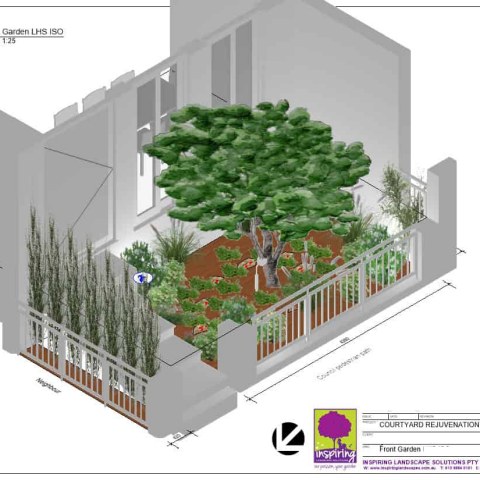 Hawthorn East Front Garden Design Side View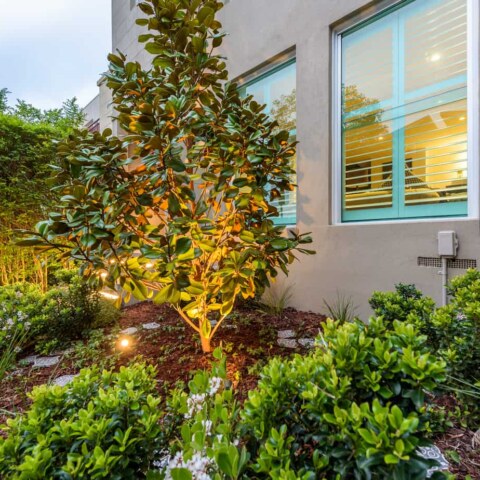 Dramatic night lighting for Hawthorn East Garden Design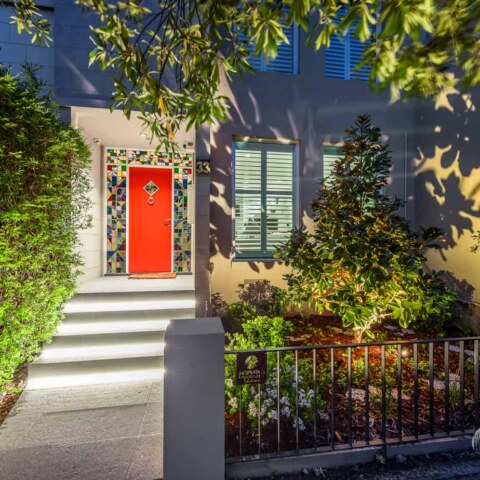 Follow us on social media