The brief
When Sarah and her husband contacted me, they wanted a garden design that would suit their family lifestyle and wow their neighbours. Their impeccable taste in their new build and incredible interior detail helped shape the outdoor design.
Sarah's family wanted a garden that would flow with the exterior and could be enjoyed both during the day and at night. It had to feel modern and family friendly so that their young daughter could play safely in their garden – not to forget little Max the terrier! Their little dog needed his own play space and a comfortable place where he could just be his doggie self.
Sarah and her husband loved having wildlife enjoy their space and wanted local birds to join in their garden fun. Sculptures, textures, and modern features were key! The garden had to be as low maintenance as possible with a native exotic plant palette supported by an easy irrigation setup.
Our Glen Waverley garden design
We introduced plenty of features that catered to the overall brief in coming up with the design.  The Glen Waverley garden design process spanned a good couple of months as ideas kept on flowing and being refined.  We worked tirelessly with our clients to come up with different options for each aspect of the design.  From the planting choices right up to outdoor paint colours, material choices and a budget (and design options) for the eventual corten featured artwork for the rear alfresco area.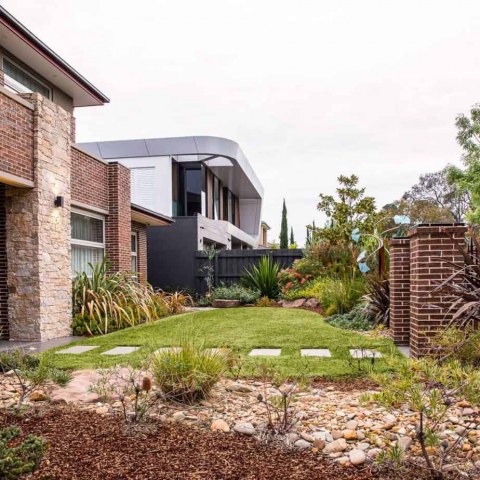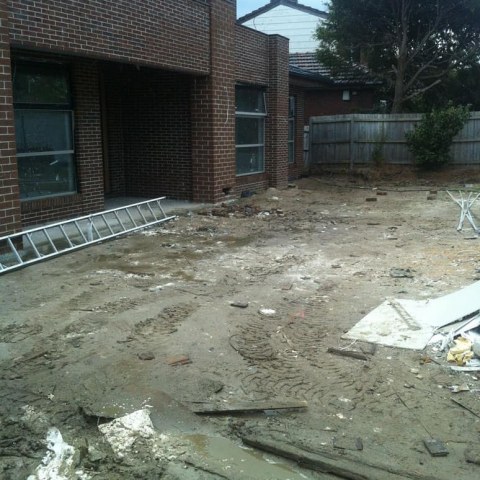 Our Glen Waverley garden design was really quite an enjoyable process for all parties. It was another perfect example of a wonderful design collaboration with the family involved.
It met the approval and compliments of neighbours and passersby.  Even the landscape designer of their next door neighbour, the famous Jack Merlo, paid his compliments.  That was a HUGE and humbling compliment to all our hard work on this project!
The front garden comprised a mixed planting of natives and exotics.  The idea here was to have a garden that is not only wildlife friendly, but is interesting all year round.
I loved it when it came to choosing the rock features for the garden.  The clients had researched and specifically wanted mud rock.  These had natural holes in them which would act as water reservoirs and would therefore entice little birds and insects into their garden!
We used a corten feature for the rear alfresco area.  All 13 meters of it told a story that matched the thought process of the front garden.  It reflected birds and other wildlife so was the perfect fit for the garden.  The client's absolutely love the feature which they can enjoy day and night and it really looks awesome doubling as a lightbox when they entertain.
The design of the vegetable patch was a collaboration with Modbox.  We had worked with Marco in the past and his products do not leach chemicals into the soil.  We continue to use his products where possible as it fits well into our productive garden focus.  As a design company, we strongly believe that it is possible for every urban garden to fit a vegetable patch in.  We worked with Marco to ensure that there was a capping on the sides of the raised garden bed, understanding which soil to import and adjusting the sizing to suit the family's needs.  The client's have elderly parents who will work on this patch so their comfort and east of access was forefront in our minds!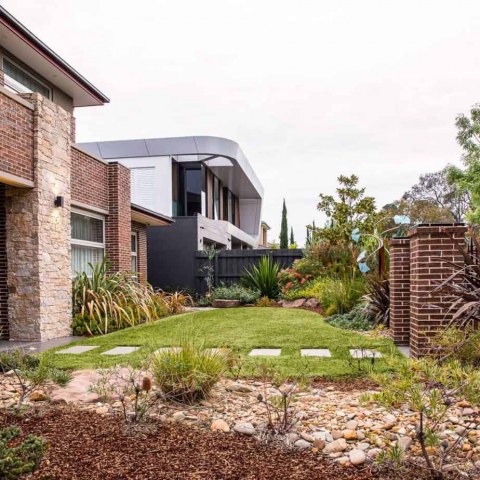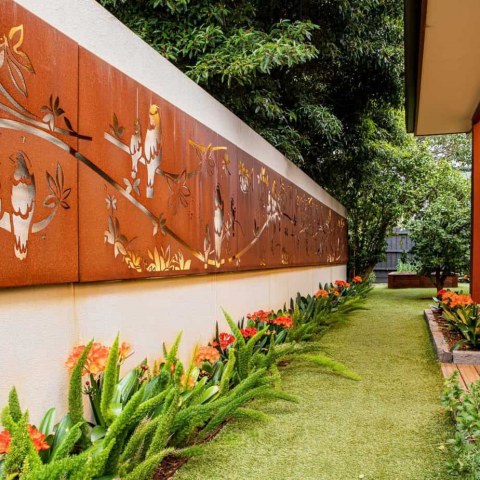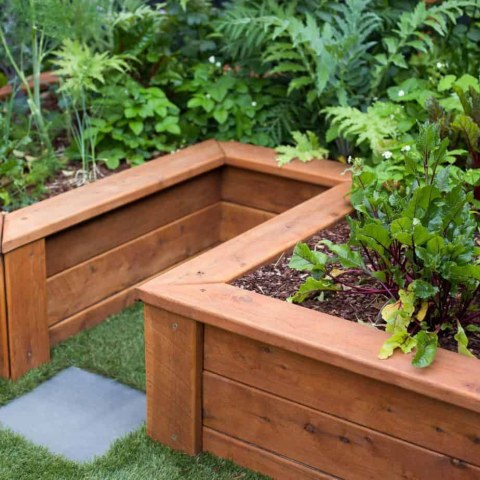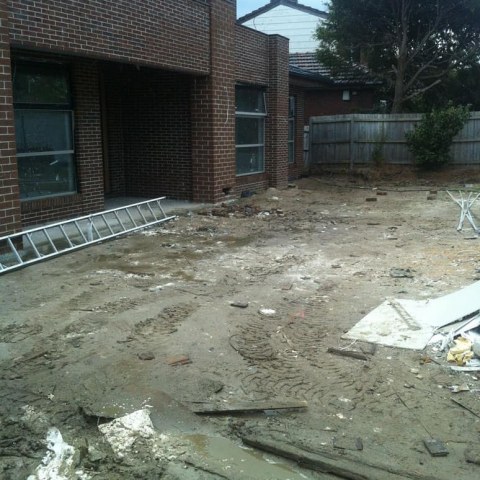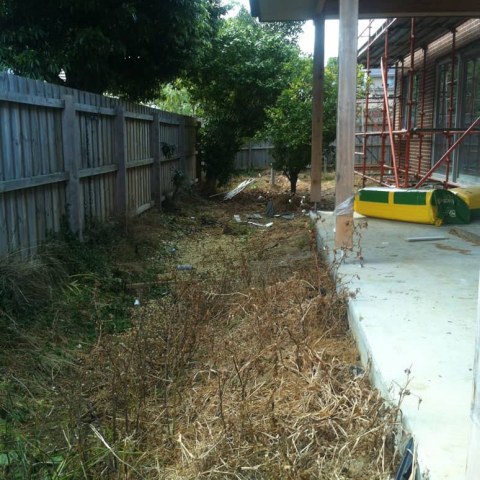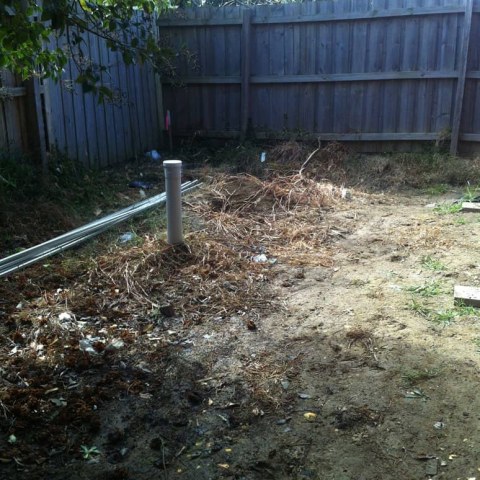 In the front garden, we used an award winning sculpturers' work to create the kinetic feature for our clients.  Jass's work has been featured in the Chelsea Garden show in the past.  The client's absolutely loved their visit to his workshop, which we organised, and settling on a design with him.  We worked with Jass to come up with a solution to make the sculpture into an outdoor water feature.  Something he hadn't done before and the results show for themselves!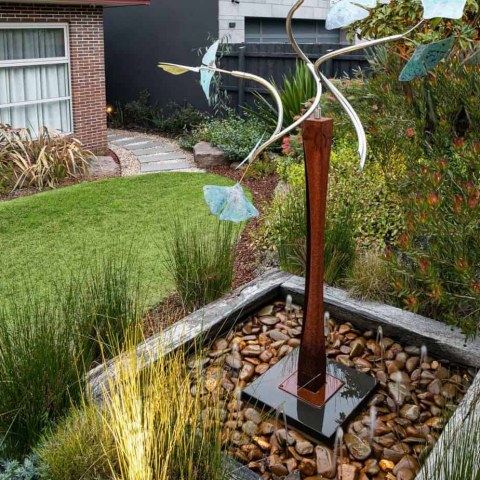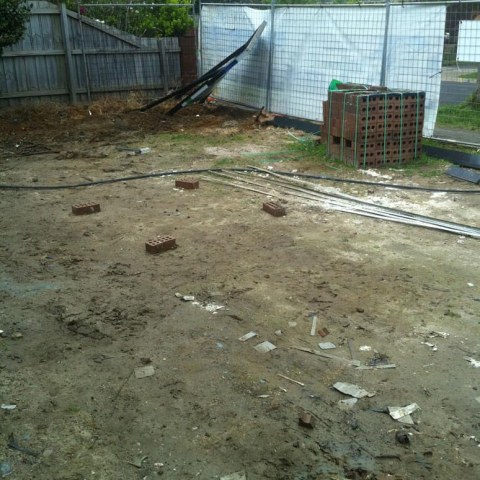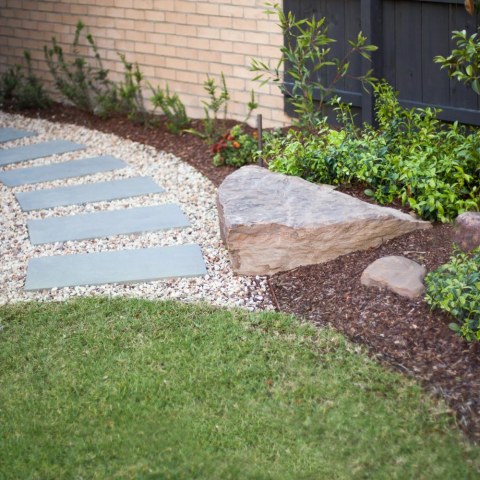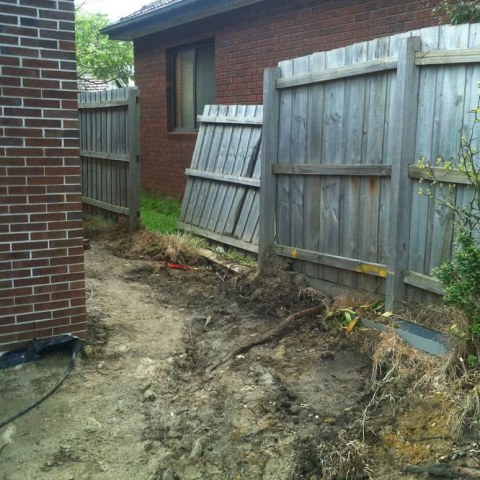 See how our Glen Waverley garden design was actually transformed into their dream garden.  Discover the key elements that contributed to this transformation. Have a look at the testimonial video from Sarah and her husband (please scroll down our Homepage).
Other resources
Hungry for more information on whether we are the right landscape designers for you?
Then check out our process and design philosophy to find out more about what makes us tick!
We have been awarded with the Houzz Best of Service 2020 award.
Editorial note – names of the clients have been reflected as per their preference and, at their request, to protect their privacy.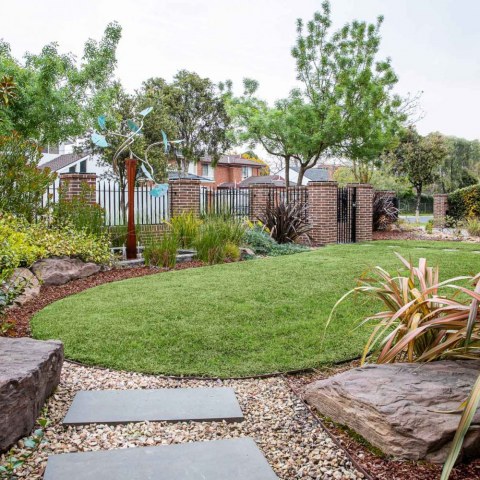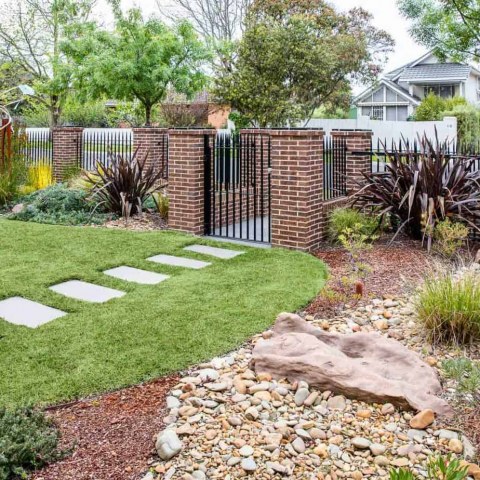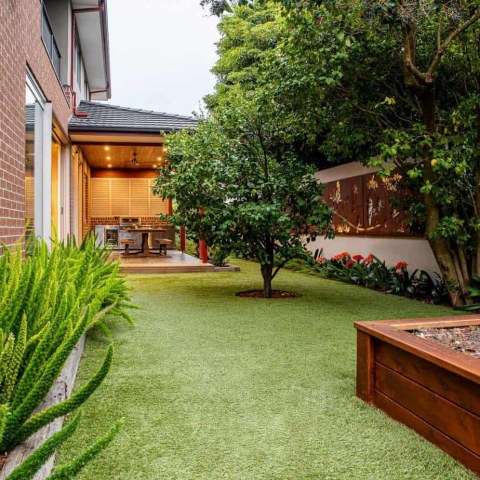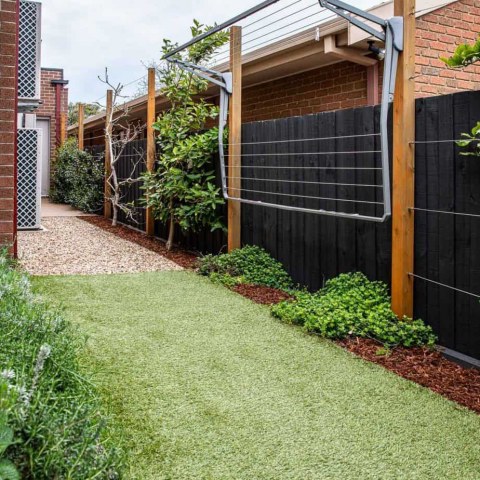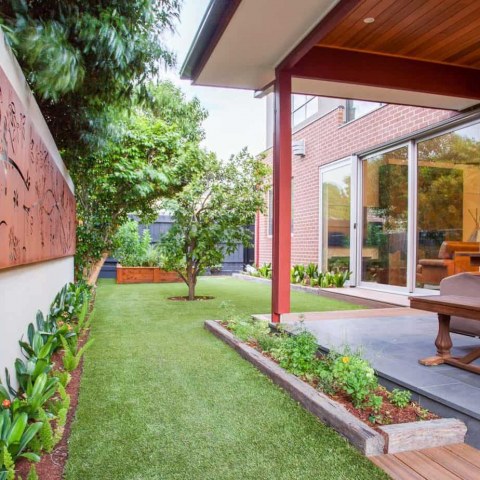 If you need further suggestions or design or plantscaping both indoors and outdoors, please contact us for an onsite 90 minute consultation. 
Refer to our packages for further detail on how we can help you in the consults and subsequently throughout your garden implementation process.
Do check out our articles on why choose a landscape designer.
Our passion your garden! xx
Follow us on social media