Winter is a beautiful time to be outdoors, with the crisp air and warm sun providing the perfect setting for entertaining. However, it's also a season of harsh conditions that can take its toll on your outdoor timber decking if you're not careful. Timber decking adds a touch of natural elegance to any home but requires proper care to withstand winter's harsh conditions.
Fear not! Whether your deck is a place for relaxation, entertainment, or simply enjoying nature, here are some top tips to help keep your timber decking looking great all year round – from summer to winter.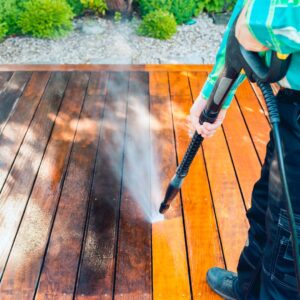 Keep It Clean
Before winter sets in, give your timber decking a thorough cleaning. Remove leaves, debris, and any dirt accumulated during the fall. Use a gentle pressure washer or a soft-bristle brush to scrub away grime from hard-to-reach areas.
A build-up of dirt can cause the timber to rot or discolour, so make sure you keep your decking clean. Cleaning the surface helps prevent the growth of mould and mildew, which can be particularly problematic in damp winter conditions.
Inspect and Repair Damage
Perform a thorough and regular inspection of your timber decking for any signs of wear. Look for loose boards, protruding nails, or any areas that require repair. Addressing these issues before winter can prevent them from worsening due to freeze-thaw cycles.  
Over time, cracks can form on wooden decks due to weather exposure, which should be addressed promptly. Sealing the cracks will help protect your timber decking from further damage, so take care of them as soon as possible. Look out for any signs of insect activity or damage to the wood.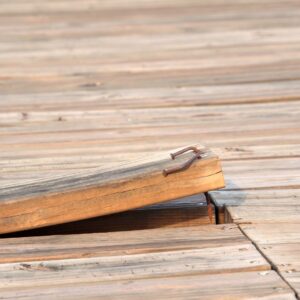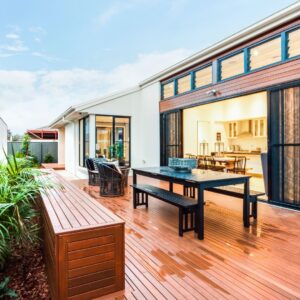 Get A Professional Clean
Restoring wood decks to their former glory can often be tricky once they've become heavily stained or scratched. That's why it's best to get a professional clean every few years. A deep clean will help remove dirt and grime, bringing your timber decking back to life!
Apply A Protective Finish
Applying a protective finish to your timber decking before winter arrives is crucial. Choose a high-quality sealant or stain that provides a barrier against moisture, UV rays, and temperature fluctuations. Ensure to follow the manufacturer's instructions for application and allow sufficient drying time before winter weather sets in.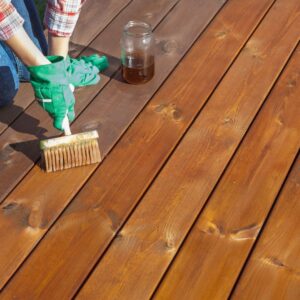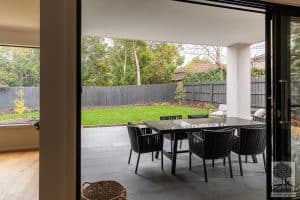 Elevate Your Outdoor Furniture
If you have outdoor furniture on your timber decking, consider elevating it off the ground or moving it to a sheltered area. This prevents furniture legs from trapping moisture against the deck's surface, which can lead to rot or discolouration.
Avoid Salt and Chemicals
While using salt or deicing chemicals to prevent slips on your deck is tempting, they can harm timber decking. They can strip away protective finishes and promote wood decay. Instead, sparingly use sand or non-corrosive, calcium-based ice melt products if necessary.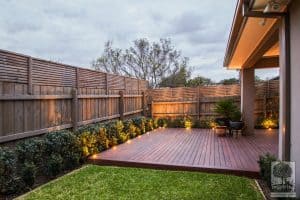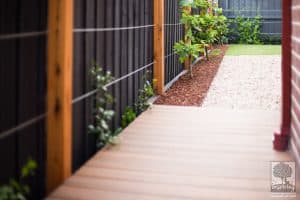 Promote Air Circulation
Ensure proper air circulation around your timber decking during winter. Avoid stacking firewood or other items against the deck, which can trap moisture and encourage decay. Trim any nearby shrubs or trees that might obstruct air movement and sunlight.
Consider A Winter Cover
Investing in a winter cover designed explicitly for timber decking can offer additional protection. These covers are made from breathable materials that shield the deck from snow, ice, and debris while allowing air to circulate.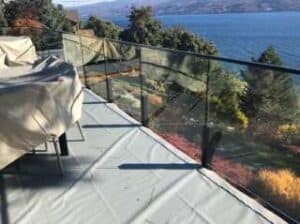 Following these simple steps should ensure that your timber decking is well looked after throughout the year – allowing you to enjoy outdoor entertaining in style all year round. It will ensure its longevity, beauty, and safety for years. A little care and attention now will pay off with a stunning and inviting deck come springtime.
Happy Decking!
Follow us on social media