Hellebores or winter roses are definitely one of my favourites!
The onset of some cooler weather and some cooler nights encourage hellebores to put on some new growth which foretells an exciting flowering season on the horizon!  Hellebores are definitely one of the stars of a winter garden when few other plants are in flower.
The old fashioned hellebores bloom face down whilst the new varieties are more upright.  They look amazing in garden beds with other perennials, woodland plants or winter flowering shrubs, especially when mass planted.
There are different colour palettes to choose from.  It ranges from pastels to striking purples and yellows to broody but wonderful black!
The growth cycle of Hellebores is the opposite of many plants.  Autumn is the perfect time to plant Hellebores as they will grow away nicely into Winter and into Spring.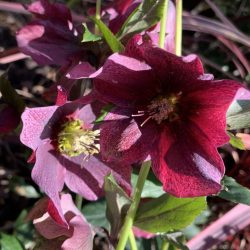 Pros of having them
Winter flowering and colour
Good for pots and cut flowers for flower arrangements
Tolerant of most soil types (except sandy soils or overly wet/soggy conditions).  They thrive in soils with plenty of organic matter
Tolerates most pH conditions
Tolerates dry spells when established
Woodland planting/suitable for dry shade – which means that they will cover the boring spot under a tree!
Easy to mix up – try pairing them with other type of woodland plants e.g. Cyclamens, Epimediums and Dicentras and other winter flowering shrubs like Camelias and Hydrangeas
Low maintenance – need the occasional (organic spray if possible) to deter aphids in spring (or warm weather), mulching in spring and summer and pruning in early autumn (when new growth appears), feeding in mid autumn (generally) with any type of complete fertiliser
What not to do with Hellebores:
Plant them in full sun as a general rule, although they do need a little sun to flower at their best!
Over water – make sure that are well watered but do not leave them soggy as that could induce rot.  They do not also grow well in sandy soils
Plant them where it is too humid
Plant them in a constricted space as they grow better in large containers and some garden space as they will naturalise over time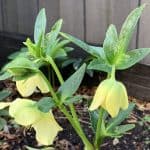 Useful External links:Post Office Farm Nursery – reputable supplier and also a wonderful repository of knowledge on these plants 😉If you need further suggestions or plantscaping both indoors and outdoors, please contact us for an onsite 90 minute consultation.  We charge $220.00 for the visit and can subsequently quote on project managing the entire transformation for you within your budget.
Do check out our article on aphids.
Our passion, your garden.
Follow us on social media