What sort of sounds?
What does "sounds in the garden" mean for me, personally? Is it the rustle of leaves and undergrowth as we walk path? Could it be the wind billowing softly that makes it exciting to be in the garden? What about the birds and then buzz of the bees? Other insects maybe? What about the delightful sounds of moving water as it laps around edges of a pond or as it cascades from a water feature? Wind chimes?
For me it's any single one and all of the above. Gardens are habitats. Life is abundant and all around. That makes it interesting and a happy place for me to be in.
Relevance to design
Ask yourself, and be honest, do I want these sounds in my garden? Which ones in particular are attractive to me? Do I really want to attract insects and frogs into the garden? Can I share my space with them?
Yup lots of questions and lots to think about!
It helps when you have clear answers to the above questions when designing a garden. It impacts the practical aspects of the design (eg hardscaping, material choice) and the softscaping component (plant choice).
Importance to your wellbeing
I'd argue that having some form of sound in your garden is important and therapeutic. How strange would it be if the garden 'sat still'? It 'feels' almost clinical and unnatural. Almost 'lonely'!
How can you create sound
Well it's sort of hinted to at the outset. Either naturally with 'enticing' some fauna into the garden or using accessories like a water feature and wind chimes as you see fit.
Recent trends - garden acoustics!
Another area we haven't discussed is a recent trend in garden design for garden music or acoustics to be incorporated. Ie again lending itself to extending our living space into the 'outside'. Think Bose systems and the like (and lots of partying and family entertainment lol). What better way than to enjoy the outdoors fully and all year round!
I'd actually like to incorporate more of this into my designs and encourage my clients to have a think about investing into such outdoor systems. I've had a recent project which has installed such a system and the family wouldn't have it any other way!
Acoustics - where in the garden?
Aha. That's the question I suppose. The usual spot would be 'attached' to the house in some manner and project it outside. Well that's probably the basic idea. What about to specific sites? Eg at the pool if you have one?
An amazing idea I came cross was a design at the Chelsea Flower Show a couple of years ago. Acoustics attached to the water feature, creating movement and rhythm. Ie the acoustics couldn't be heard but the gentle sound from the water feature movement could. Inspiring idea for sure!
In sum
Anyway I could go on lol. But I'll leave it here. Sounds in a garden is a must have in my book. Something will certainly be amiss without it. Like a garden without a 'soul'.
Surrey Hills - garden sound system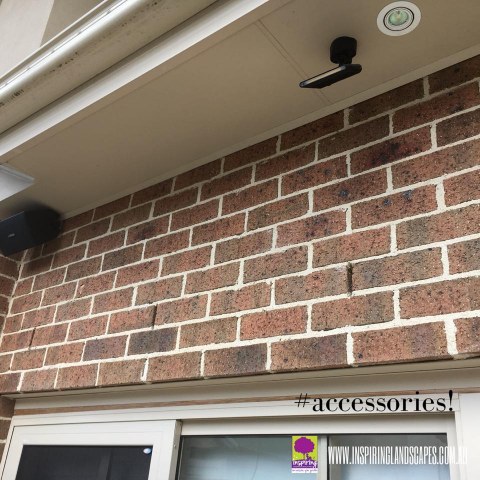 If you need further suggestions or plantscaping both indoors and outdoors, please contact us for an onsite 90 minute consultation.  We charge $250.00 for the visit and can subsequently quote on implementing the entire transformation for you within your budget.
Our passion your garden! xx
Follow us on social media