Setting the scene
Last year, I was approached by the family who wanted to create a beautiful garden surrounding their newly built home that they were looking at selling.
It was an unusual project for me to take on.  As you well know, my gardens are all about the creating spaces that are custom for the family they live in.  And which they feel connected to on some level.
So I had to assess the design strategically.  I kept the aesthetic simple and stunning, in line with the rebuilt modern house.  Plus I needed it to be within a tight garden design budget too!
My approach
I spent the design budget designing and researching plants and materials that would be the perfect balance of looks, coverage and budget.  We had a significant amount of area to be landscaped and if we weren't careful, actual project costs could blow out.
As another cost control measure, some of the activities associated with the landscaping had to be undertaken by the family.  For example, the painting of the fences so that costs could be kept down to be within the tight garden design budget.  I feel that this was an important part of the process.  My clients needed to feel that they have some control of their budget.  They also needed to feel that they contributed to the implementation of the project.  This was a home that they had originally planned to stay in but had to let go due to a change in their circumstances.
The outcome
From a design perspective, it was a fun project to play with such a large space and create a garden that a young family can enjoy.  In the rear, the design incorporated an extended paving area.  This was done to maximise the alfresco space and allow for additional seating.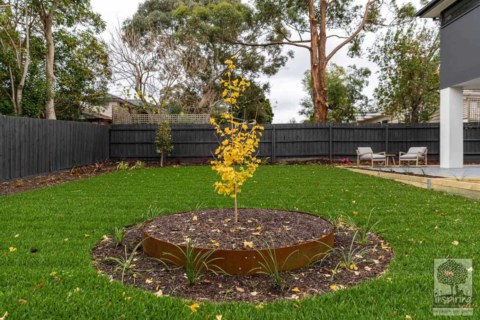 It created a feeling of being part of the garden space.  The large alfresco was surrounded by an equally large circular grassed area.  The grass was bordered with low maintenance plants that will look good all year round.  These plants also added colour to their garden.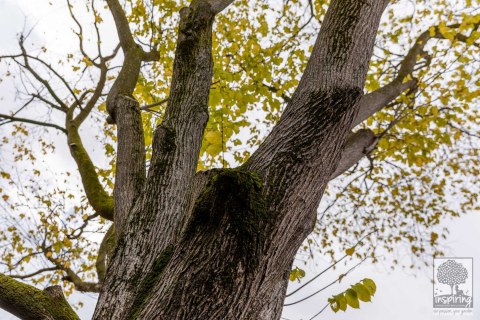 The frontage also included many low maintenance plants that will shine throughout the year.  The feature I love the best though was the mature golden elm tree.
I based the design on the gorgeous golden colours of the elm's foliage which contrasted beautifully with the house's dark cladding.  All materials and plants chosen accentuated or perfectly contrasted with those colour tones throughout the garden spaces.
The results speak for itself .  It achieved a record breaking sale for a 4BR property in Burwood.  This is all thanks to a wonderful collaborative effort with the family involved!
Client testimonial
"Parveen is a gem! She was patient, thorough, met the brief and listened to us, creative, accommodating and so easy to work with. She went well and truly above and beyond and gave us the time we needed to get our end result. It was so nice to work with such a lovely and respectful person and I cannot wait to see our garden come to life all thanks to Parveen.  Thank you so much!
Yvette & Lukas Egonidis"
Other resources
Hungry for more information on how you can rejuvenate your garden or stage it for sale?
Then check out the following write-ups which could assist!
21 further tips for staging for sale
In the meantime, visit my past projects below which were also done up for sale!
If you need further suggestions or design or plantscaping both indoors and outdoors, please contact us for an onsite 90 minute consultation. 
Refer to our packages for further detail on how we can help you in the consults and subsequently throughout your garden implementation process.
Our passion your garden! xx
Follow us on social media