Wow, what a month it's been so far! 
If you haven't kept up with me lately, you might not have known I had one of my border garden designs presented at the Melbourne International Flower & Garden Show (MIFGS) last week. It was a fantastic experience that I'd do again if given a chance.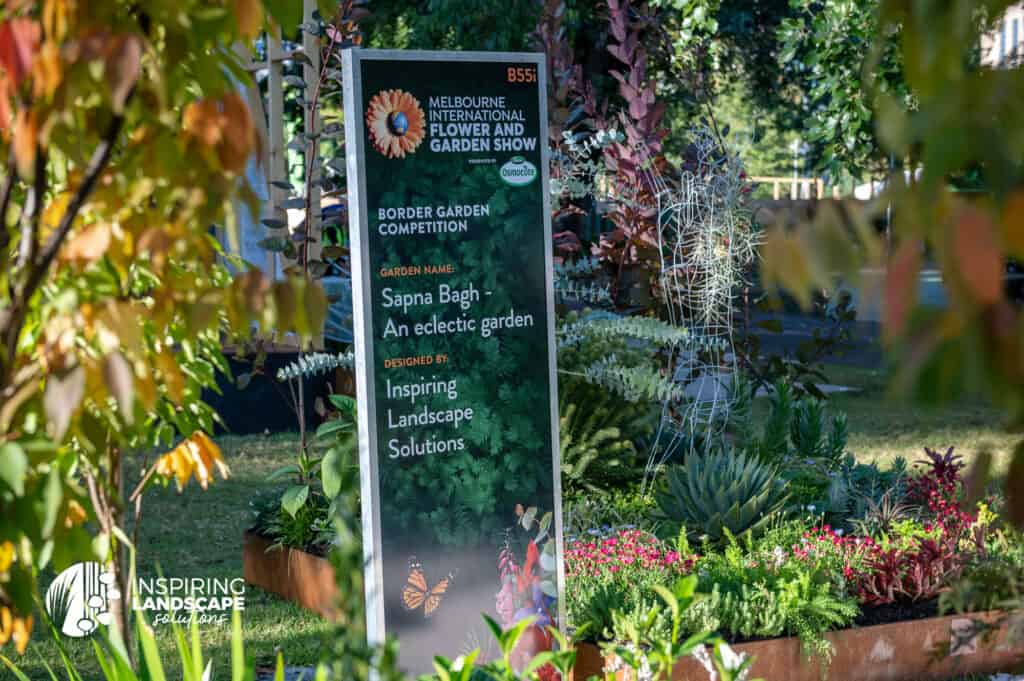 A Bit About MIFGS
MIFGS is Australia's premier horticultural event. It brings together some of the world's best gardeners, landscape designers, florists, horticulturists and exhibitors to display their craftsmanship in stunning gardens and floral displays.
MIFGS is held annually in March, attracting over 100,000 visitors across its four-day program.
MIFGS provides a rare opportunity for gardeners to explore and experience the latest gardening trends and techniques from some of the world's most talented experts.   I certainly learned a thing or two visiting other displays around me!
My Border Garden – Meaning & Design Intent
My garden was Sapna Bagh which translates to "garden of dreams". It is an eclectic garden that attempts to represent the joy of coming home & immersing yourself in your carefully curated space.⁠
Brimming in the moods, colours & textures created by your very own collection of plants, heavily influenced by your cultural origins, travels & interests. ⁠
⁠It's a garden style that's bold, uniquely you, fun & exciting to experience every time you're in the garden, every season!⁠
The design uses plants in different ways to create a living artwork, i.e. akin to a painting or sculpture in a gallery. It evokes the senses & creates an emotional response to the curation.⁠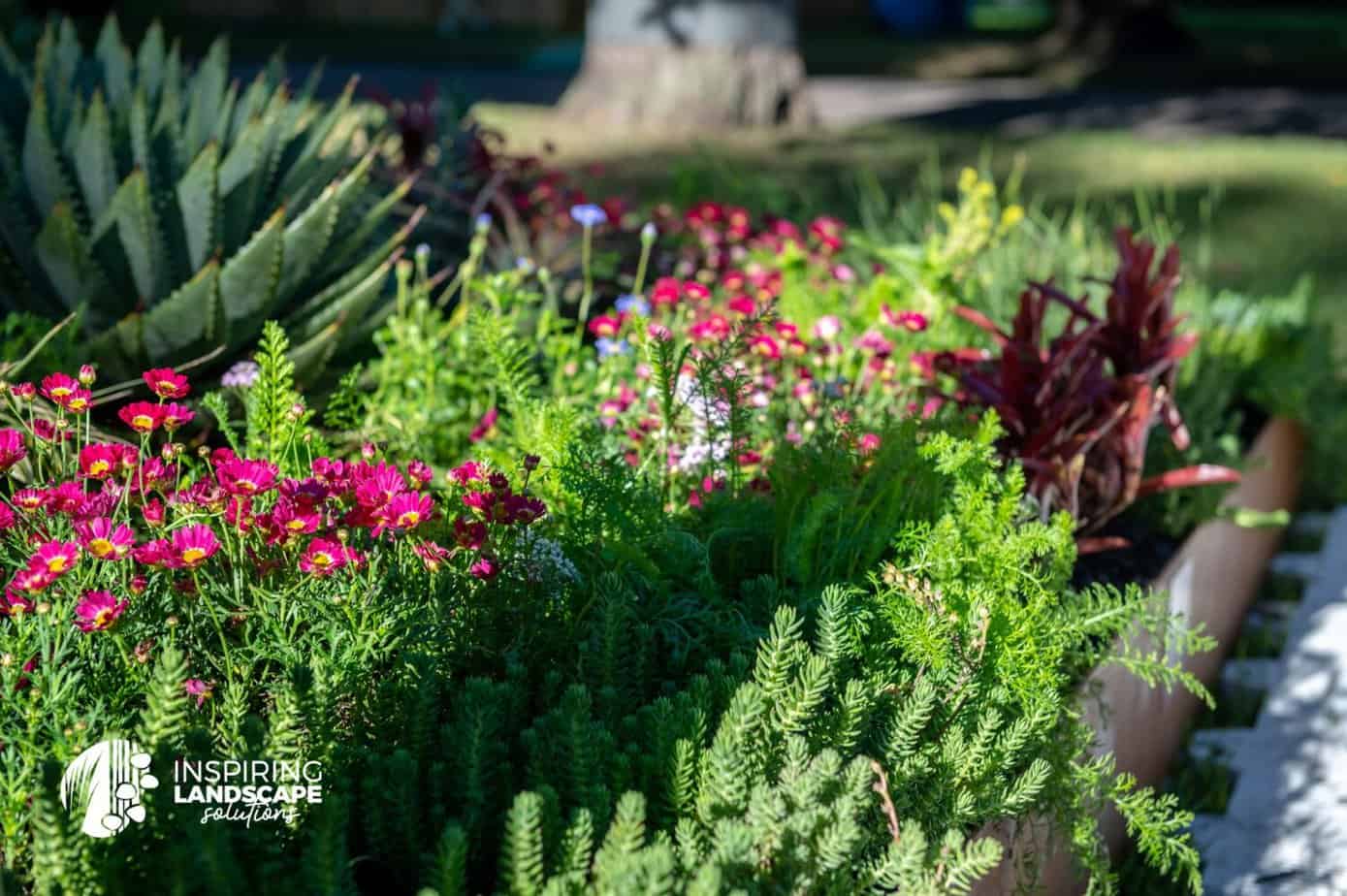 There is a lot of detail & thought that goes into planning a garden and one which uses layers of hidden elements of symbolism which I'm finding underrepresented in design practice in residential spaces (given the heavy focus on practicality and aesthetics).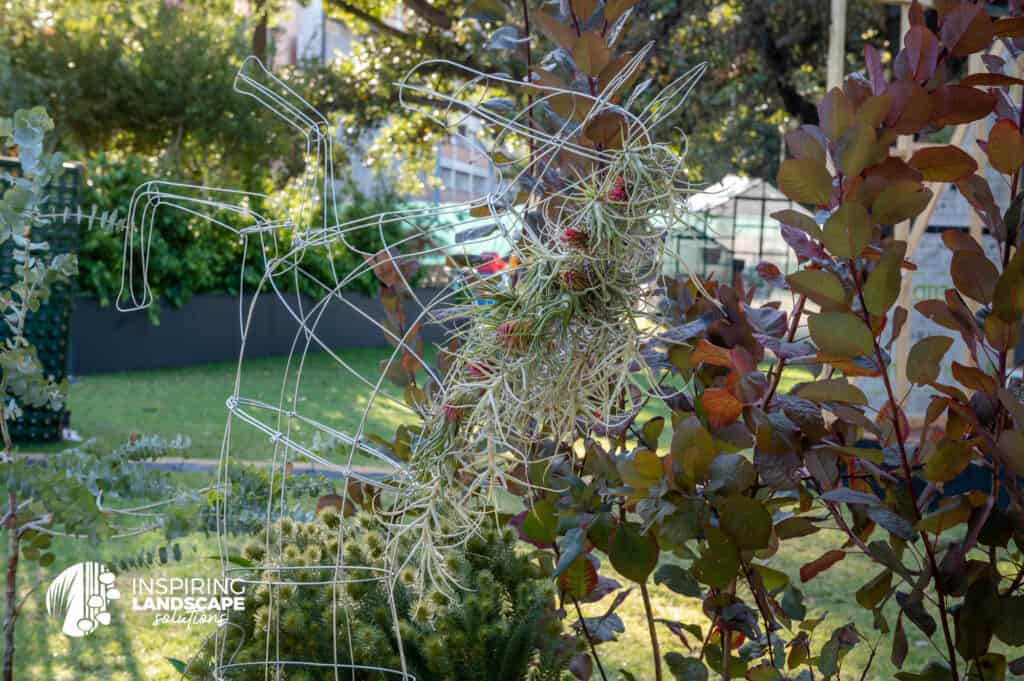 For example, this garden incorporates a "living" horse sculpture with several meanings.  At one level, the horse represents the spirit of joy, adventure and wonderment, but it also links to a personal connection with this majestic creature as my spirit animal.  ⁠It also aligns with my /(cultural) zodiac sign. 
The horse, in many cultures, embodies a sense of independence &adventure, which extends to this garden via the plant selection representing the bountiful forms, textures and beauty existing in nature to explore and experience!  ⁠
⁠⁠The colours red, yellow & blue nod to some of my cultural roots whilst adding to the cheer, elevating my thoughts and life outlook! I'm celebrating that I'm a plant collector for an excellent reason!⁠
My MIFGS Highlights
These are some of the experiences I had with some of the visitors from the show:
The horse was certainly a big hit and will be in my garden soon, as will most of the plants I displayed. I'll save a few for clients. 
A lovely lady from Malta connected to a plant I'd used, and she loves it used in the design as it brings back childhood memories for her.
A gentleman thought of another layer in the design, which I didn't know, where he could see the garden as having a huge smiley face complete with eyes etc.! People have such beautiful imaginations!! Love it! 
Many people said I should have been given a prize, which was very kind of them to say, but honestly, I think I was amply rewarded by the visits I was getting and compliments to boot! They loved the colour and texture and use of different plants. That is exactly the reaction I was after, so I'm thrilled that the design strategy was effective! 
Spiral aloe feature plant
Eucalyptus Baby Blue glistening in the sun
Red Marguerite Daisy glistening in the sun
Picture of me and my MIFGS border garden
Everyone loved the horse, which was cool and especially the use of various air plants in its tail and mane!  Many people said they wanted to vote for me in the People's choice awards, but they couldn't, unfortunately, as it was only open to the larger show gardens! Maybe I'll have to do a larger garden next time, lol, if I have the time and means to do so!
Everyone loved the horse, which was cool and especially the use of various air plants in its tail and mane!  Many people said they wanted to vote for me in the People's choice awards, but they couldn't, unfortunately, as it was only open to the larger show gardens! Maybe I'll have to do a larger garden next time, lol, if I have the time and means to do so!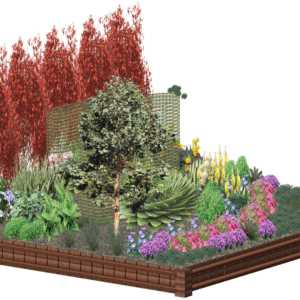 It was also lovely to hear visitors' stories, relationships with their gardens and desires to get them to the next level of satisfaction.  People saw the garden as their sanctuary and believed in having fun and experimenting with unusual plant combinations. If you know me well enough, I love to experiment with my gardens, and it's worked well so far!
Interestingly enough, my Tafe design teacher from eight years ago popped past and liked my garden, so I'm glad he didn't think I'm still crazy about complexity. But, on the other hand, he was happy I was still "pushing the boundaries, " which I suppose I like to do. So he stood beside me in amusement as I explained my garden to some visitors. 
He got the textural element I was creating and loved it, so I'm sure he wasn't in as much pain as when he saw my Achievable Gardens submission from 8 years ago as a student. I still remember the design school's reaction to it as I put it together, being heavily pregnant and lacking time! All on rough scribbles of paper and madman annotations all over the place!
I've never forgotten him, as he was so kind and supportive. Plus, he put up with my quirkiness and intense thirst for knowledge, which isn't easy! So seeing him after what felt like an eon was very lovely. I remember nursing my daughter between classes and the Tafe team at Melbourne Polytechnic, allowing my husband and baby to be present on campus so I could do that.  So they rock, in my view! (Horticulture & Landscaping)!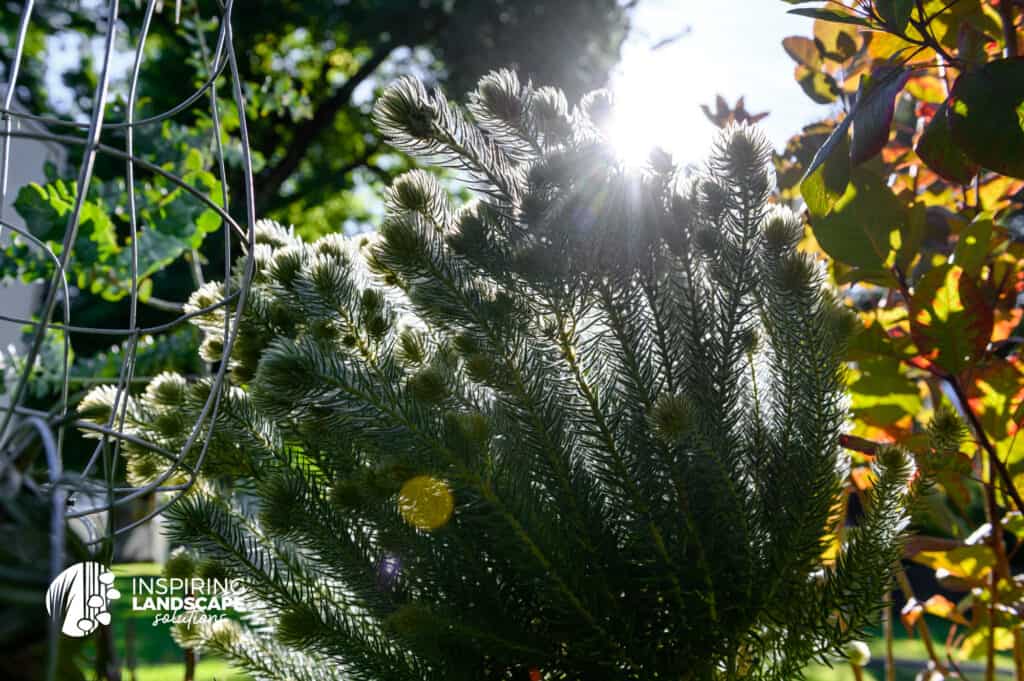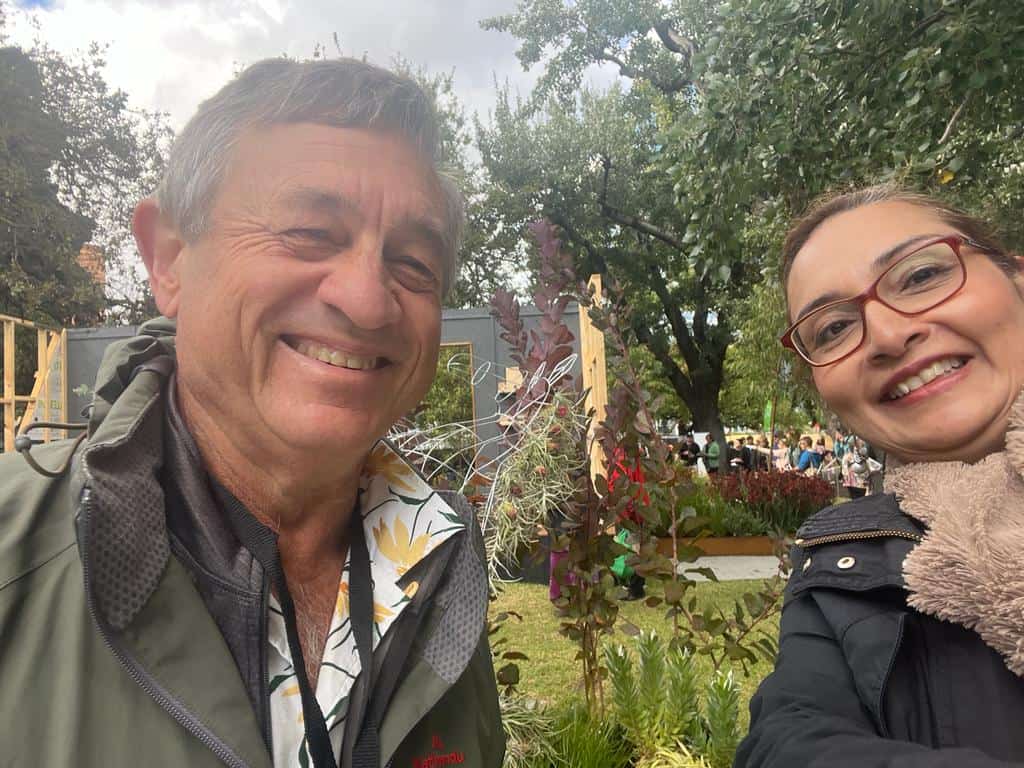 Some clients, family and friends I know stopped by, which was lovely and entirely unexpected, so it was heartwarming for me to have their support and presence to warm the freezing atmosphere! 
I shook hands with Graham Ross and was a little bit taken aback as that was unexpected, and then turned into a silly 16 year old school girl when I saw Angus Stewart standing right in front of me at my garden display.  He liked my horse!!  Cool!!  We spoke for a while about kangaroo paws etc., which was nice!
A few Senior designers even visited to explore some of my chosen plants, which was pretty cool and humbling! Some visitors liked my plant selection so much that they wanted cuttings of my plants on the spot!
Further Reflections
The hardest thing about this competition category was the clarity about the judging criteria and the rules around the timings/prep. However, it was a good learning experience and something I'd bear in mind for the future.  You never know; I may have another go at the boutique gardens someday and get in!
Part of me sort of says I should have stuck to the usual suspects to have a winner's spot in the competition and should have concentrated on things I'd done before, such as themed country-style gardens, etc. 
However, I wanted to represent what I feel reflects a portion of my client base – the collectors' garden for highly creative individuals who dare to be different and want to inject their personalities into their outdoors. 
Aloe polyphylla feature plant
Final garden set up for 2023 MIFGS
Red Marguerite Daisy beautifully contrasting each other
Therefore, the "collectors garden" is a garden I believe is highly reflective of an individual's sanctuary/zen space. Furthermore, it reflects my philosophy of having a strong emotional pull/interest/attachment so that the interest in the outdoors doesn't wane over time!
So although the top three spots went to gardens I've designed before (Japanese, Cottage mixing exotics & natives, Grassy meadow), I'm glad I went this different route and ask feedback on what people were experiencing and seeing. Whether there was a different appetite for this type of garden style, and to my absolute delight – there is!!.  
The garden show was interesting, and I got to see some ideas I have designed in clients' gardens in real life, as the gardens I've designed them in are currently being constructed right through to 2024.
This included using different landforms in grassed areas, where they act as raised mounds to rest on as a practical feature and double up as a strong design component.  So it's good to know that I'm not lagging, lol!
I also loved using different wall textures and wood treatments, from charred to renders and stone effects and the superb lime wash finish, which I LOVE to use when I can!!. Crazy paving and cacti were also well represented, so I was delighted with that!! 
I can't wait to use the few more plants I've added to my knowledge bank and learn about them. So if you're thinking of becoming a client of mine, watch out, as I have more ideas than normal that I'd love to design into yours!
Projects to be constructed 2023/2024:
Berwick 2D Rear garden Landscape Concept Plan
Glen Iris 3D Rear garden Landscape Elevation Plan
Clayton South 2D Rear garden Landscape Concept Plan
Brunswick East 3D Front garden Landscape Elevation Plan
If you need further suggestions, design or plantscaping for both indoors and outdoors, please contact us for an onsite 90 minute consultation. 
Refer to our packages for further detail on how we can help you in the consults and subsequently throughout your garden implementation process.
Our passion your garden! xx
Follow us on social media