Coming from the tropics I love colour and a lush green look.  There are many that tick these boxes but I have found Bromeliads to be the most versatile.  They have varied texture from soft to hard/serrated and come on all sort of colours and fun patterns such as spots!  It has been fun learning about them over the years and implementing them in my garden designs.  I found them easy to incorporate in many types and styles of gardens and are best of all, fuss free.  Of course like any other plant, it does need a little TLC[1] over time, but which plant doesn't?  There are also subtle tricks of the trade like getting them to flower when the conditions aren't right, but it's simple enough to remedy.
So what are wonderful bromeliads?
Bromeliads are members of a plant family known as Bromeliaceae.  The family contains over 3000 described species in approximately 56 genera[2]. One of its members is my all-time favourite fruit, the pineapple!  Ananas Comosus … YUM!!!  The family contains a wide range of plants including some very un-pineapple like members such as Spanish Moss (Tillandsia usneoides). Other members resemble aloes or yuccas (eg Dyckias and Hechtias) while still others look like green, leafy grasses (eg Pitcairnias).
They are found in a variety of growing situations:
Terrestrial species are found growing in the ground – either in bright sun along sandy beaches to the shady understory of a forest.
Saxicolous species are found growing on rocks or on sheer cliff faces.
Epiphytic species are found growing on other plants such as trees, shrubs or cactus or even on man-made objects such as telephone poles or telephone lines! The latter type take their nutrition and moisture from the atmosphere and are hence aptly named "Air Plants".
Versatile plants
So you get the idea that they are very versatile and well suited to Melbourne's fickly weather.  The trick though is to use the right type for the right conditions and then you'll have a relatively low-fuss plant to either add interest to your outdoor or indoor garden.  For example, I've found neoregelia's[3] to be the hardiest in the sun whilst bilbergia's and aechmae[4]'s seem to take to partial shade and shade better.  Guzmania's need shelter from winds especially cold and/or frosts but if you do manage to succeed with them[5], the flower bracts are well worth it as they are AMAZING!!
I've found bromeliads to be good companion plants too to just that little something more visually to the garden – and the bonus is that they are not as short lived as some tropical plants and are there for you to enjoy all year round, unlike perennials.
An example
Here's a photo of a random tropical garden I've put together to remind me of my parent's own garden when I was growing up.  They were keen gardeners so I remember their garden to be haphazard at best but full of many interesting plants and textures.  Eye candy for me!  This particular patch faces the children's bedroom window so they have a birds-eye view of it when they get up in the morning.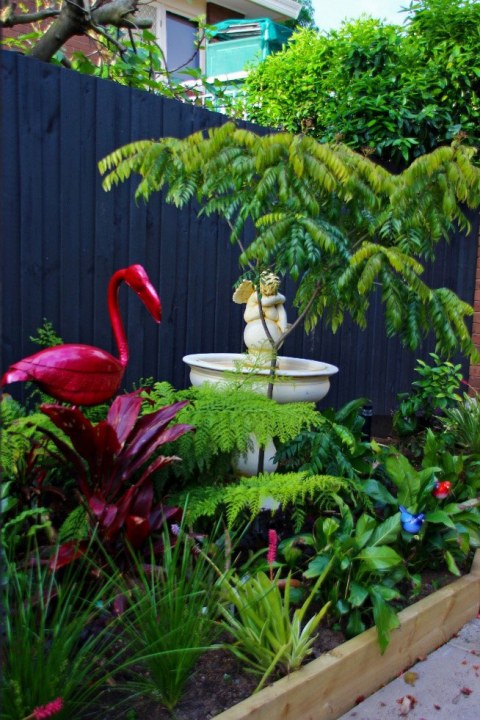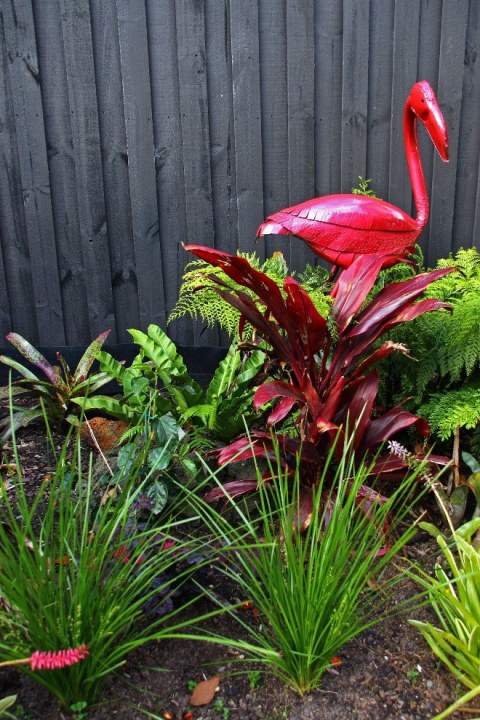 As you can see there is a heavy emphasis on foliage shape and colour.[6]  I have always had a fondness for foliage plants, particularly variegated, random coloured etc.  It always pays to have a little fun and in your planning, to add a seasonal flair so that the garden doesn't end up looking the same every season in the year!  Don't be afraid to experiment though. If it looks and feels right, then stick with what you've put together.  However, you do need consider the maintenance and nutrition requirements of your pairings as you don't want to end up pairing plants of on opposite sides of the spectrum together.  You might end up losing both![7]
Check out the following examples of what broms are available out there: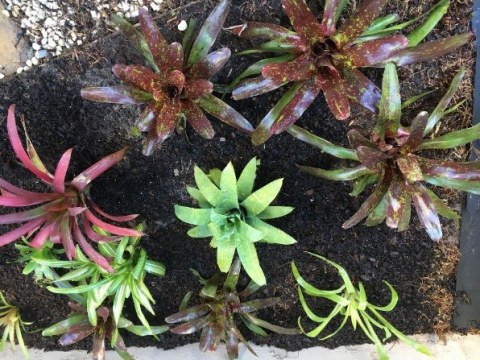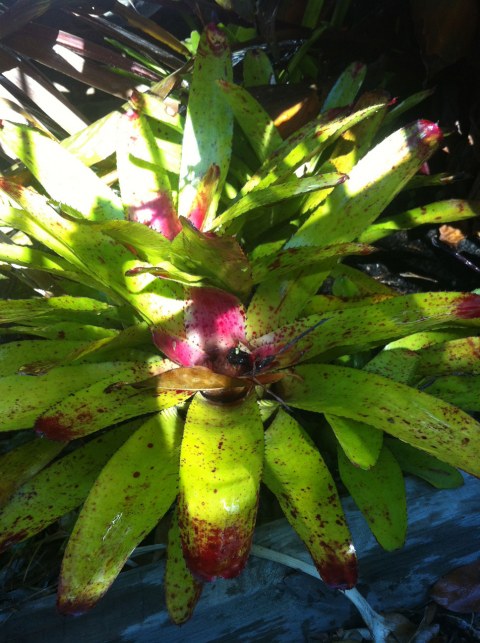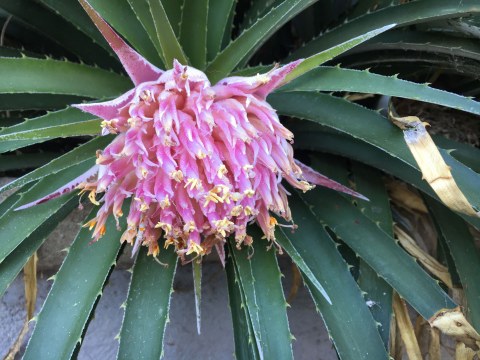 With rare exceptions, bromeliads only flower a single time – once the plant stops producing leaves and produces its flower, it will not start making leaves again. It will, however, vegetatively produce new plantlets called "offsets" or "pups", ie 'free' plants therefore allowing you to expand your garden, slowly, on a budget!  These plants will feed off the "mother" plant until they are large enough to set roots of their own and survive as a separate plant. The mother may sometimes survive a generation or two before finally dying off. Pups are usually produced near the base of the plant – inside the sheath of a leaf.[8]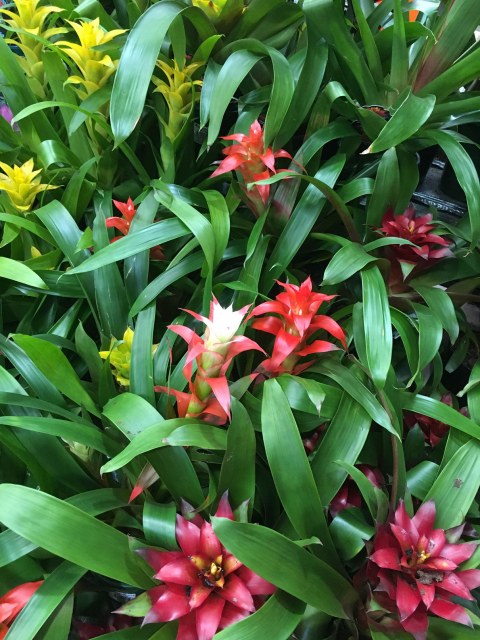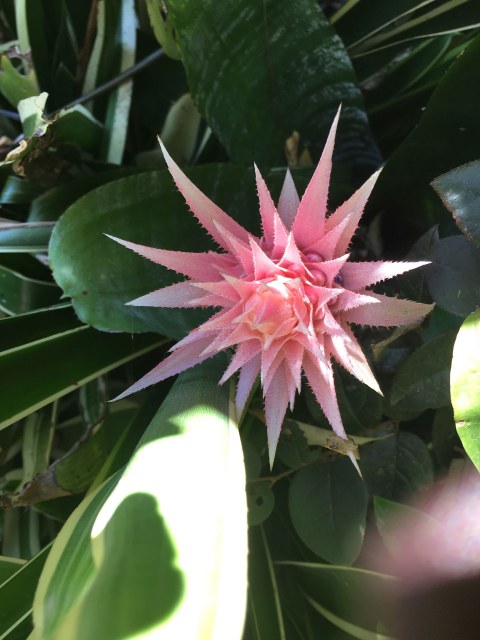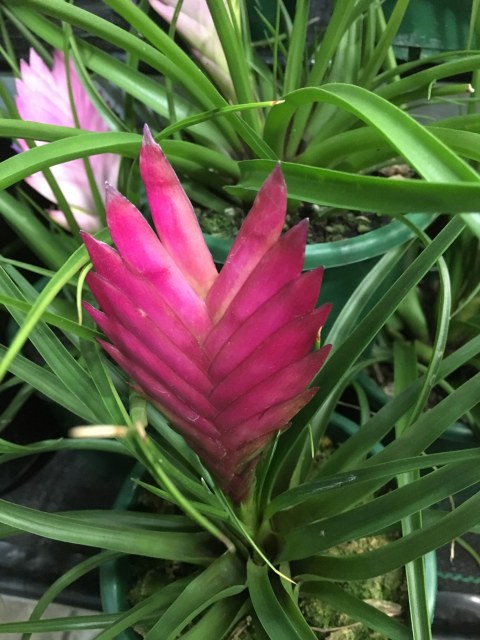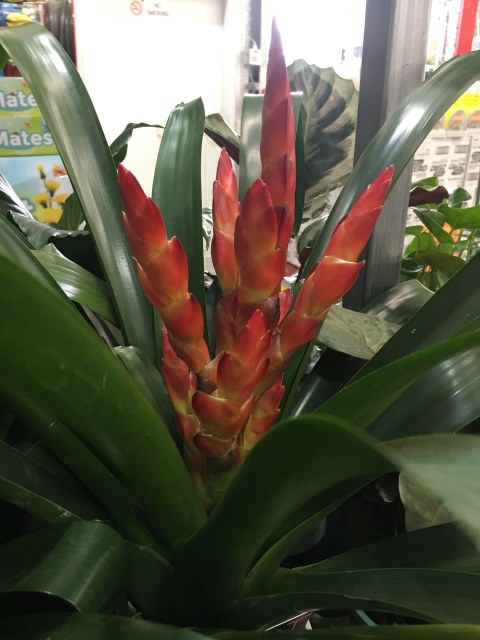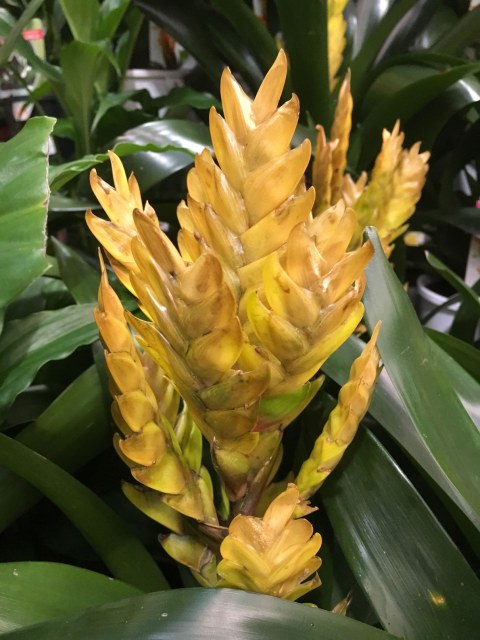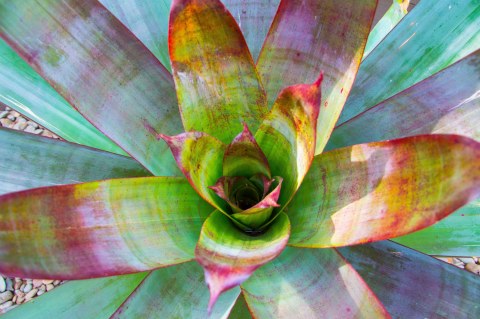 Maintenance guide
I've put together a quick maintenance guide for the benefit of my clients which I thought to share here in case I've tempted you to experiment with broms!:
| | |
| --- | --- |
| Do's | Dont's |
| Water the middle bract but ensure it's clean water and doesn't stagnate | Fertilise in the middle bract and in winter.  Epsom salts (Magnesium sulfate) or slow release fertiliser should do the trick and just half or quarter of the recommended strength should do as they don't need much |
| Use well-draining potting mix | Remove pups in winter as they won't root well.  Cut off with a clean knife |
| Place plant with ripe apple to encourage flowering (if it fails to bloom on its own) | Give up on it! |
| Planting positions – in general (although there are exceptions): "Soft leaf – soft light, hard leaf – hard light." | Plant in the wrong spot – Watch your plant for bleaching, legginess, burns, colour loss.  Watch weather conditions eg frost, winds etc. Move to alternative area |
| Use rubbing alcohol to control pests.  The main pests of bromeliads are scale and mealy bugs | Use oil based insecticides |
Hope you have fun gardening and enjoy the outdoors.  Nature is inspiring and beautiful!!  Feel free to drop me a line as per below if you're just as passionate about plants as I am!
Notes:
[1] Tender Loving Care
[2] So I'll only mention a few popular ones here!
[3] General statement – not all variants!
[4] Some though like the sun.  Be sure to read up on the plant before you buy and plant!
[5] Best indoors, in Melbourne although I have successfully planted them outdoors near a sheltered north facing wall.
[6] The bromeliads I've used here are commonly known as matchstick bromeliads.  The neoregelia is in the picture to the right.
[7] For example, pairing a bromeliad with a heavy feeder.
[8] Sometimes, however, pups may be produced on long stolons or atop the inflorescence (flower spike) of the mother plant.  The green, leafy top of a pineapple is in fact a pup that may be removed and planted to start a new plant.
Some useful links!
Our other write ups that would be of interest are faux plants and proteas.
Our passion, your garden.
Follow us on social media