Water features in your garden
Water features are perfect for large gardens as well as for small courtyards. With or without aquatic plants, they will transform your garden into an amazing space!
Sometimes it's a bit confusing to choose which one will be appropriate in your garden.  When choosing water features for your garden, try to consider the price, the size of your space and the design of your garden.
We'll explore each feature, further below!
Benefits
Water features add sound, movement, beauty and life.
They are inviting – when you see one, you instantly feel welcomed into the garden.  It's peaceful and relaxing either looking at a body of water during the day or dipping in one (picture a natural swimming pool in your backyard!)
Water features that are a part of your garden invite wildlife – that is, if you don't mind sharing.  Its so important to keep additional watering points in your garden for natives bees, birds, frogs and insects to have a sip or two to cool down during a witheringly hot day.
They compliment any garden style
Water features go with any style.  From a well-proportioned geometric reflection pond in a formal garden, to a vertical water all in a modern style home, it is our opinion that they belong there!
A quick google will reveal many gardens with water features in it.  For example, you'll see them a plenty in:
Japanese or Oriental themed gardens;
Islamic themed gardens;
Australian native flora gardens;
Kids play gardens; and
Natural "water-bodied" gardens.
Doncaster - water feature view
Water as the central element
In some garden design philosophies, water is a central element to the design.  For example, Islamic garden design heavily draws on the concept of a water body completing your home outdoor oasis from an aesthetic and functional perspective.  This is said to be written stemming from verses in the Holy Quran as describing the ideal garden.  Gardens built on this philosophy are amazing.  Have a look at the Alhambra palace gardens in Spain and more modern ones built throughout the world such as the Agha Khan centre rooftop garden in the UK!
Natural "water-bodied" gardens
There seems to be a resurgence in natural swimming pools and ponds but I'd argue that they never really went away.  You've got to research past Australian designers such as Ellis Stone and Gordon Ford to really respect their beauty and their place in the Australian home.
We've basically broken down these gardens into 2 types based on functionality.  They are either:
Natural ponds and streams; or
Pondless streams or waterfalls which are based on recirculating water using an underground reservoir.
Safety around water
This is a key consideration in any design involving water. Children need to be supervised at all times, irrespective of the type of water feature or how deep the body of water is. Young children can drown even in 5 cm (2 inches) of water.  20 seconds is all it takes, unfortunately.
Our suggestion is to comprehensively research water safety features as required by local regulations around bodies of water that you are interested in.
For those concerned who are heavily concerned about safety or a lot of maintenance, recirculating features are a safety measure to ensure that there is no access to open water.
Another safety measure is to use a metal grid immediately below the surface for open areas of water.  Refer to our Glen Waverley project
Budget
Installing a full-blown waterfall, pond or fountain might be expensive.  Water features do not have to be enormous, though, in order to enjoy a similar effect.  You can choose an inexpensive garden waterfall, pond or fountain which you can DYI yourselves.
Practical considerations
Where will the feature be sited?
Full sun and eddying winds can have a dramatically negative effect on maintaining regular water levels in a pond or water feature. A site not too hot and one where the wind doesn't blow are ideal.
Is it possible to get electricity and water to that point easily?
These are two things that should never be taken for granted, especially when combined, so always employ a skilled tradesperson to undertake the installation for you or opt for a solar powered feature.
What will the material be?
Can you take any reference for this from the immediate surroundings? Metal, slate, stone or simply just water.
Maintenance
Unfortunately this is usually more that you think – water is not maintenance-free and often not even low maintenance, but an automated top-up that regulates the water level over the pump is a useful item, and means that manual topping up of water levels isn't required quite so often. A small recirculating feature could need topping up every day in summer.  You need to be mindful though, of council imposed water hose use bans and do this manually with watering cans.
Green water
You'd also want to note the following especially if you're planning to introduce aquatic plants and/or fish into the equation.  'Green Water' occurs when there is an imbalance of oxygenated plants and fish.  You can have a beautiful looking pond, therefore, by having a good balance of aquatic plants and fish which comes with experience or seeking professional advice from pond specialists!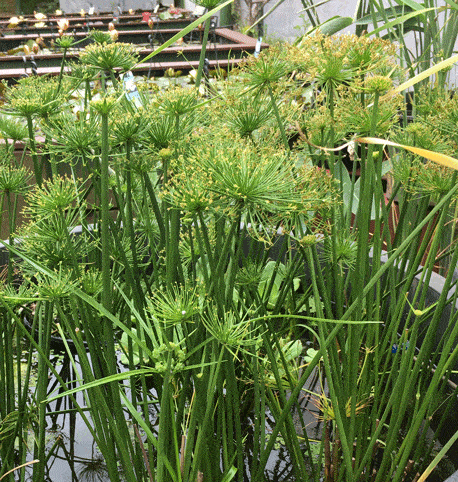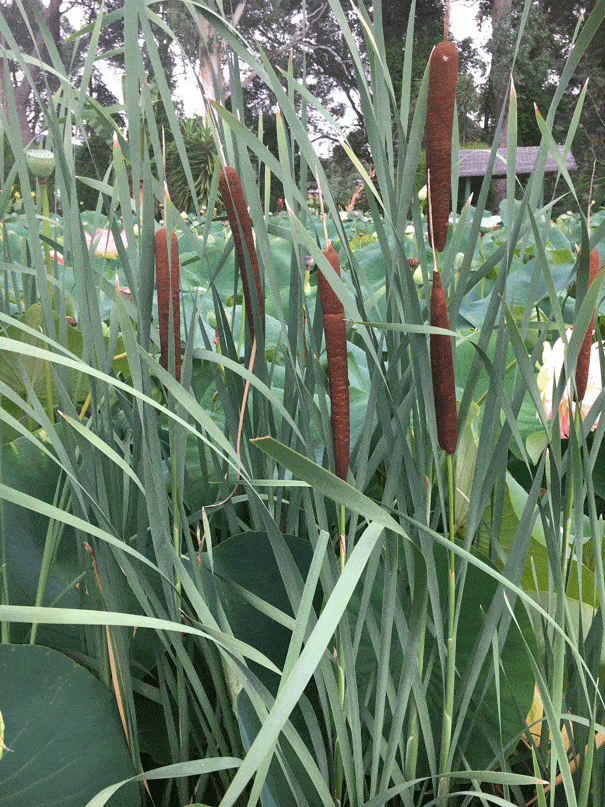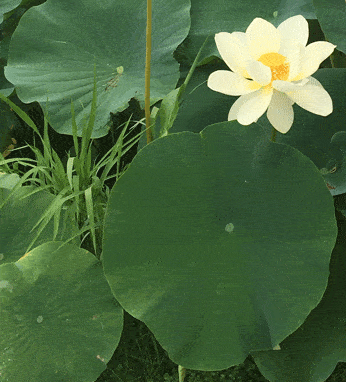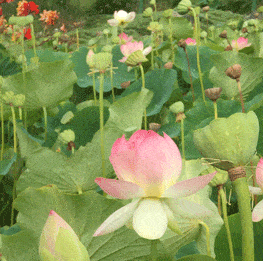 Aquatic Plants
There are many different types of aquatic plants, and each one adds to the overall ecology and balance of the pond. Waterlilies and some small decoratives have surface floating leaves giving the pond important and much needed cover.
Plant choice would depend on the garden style that you're going for[1].  When coming up with an appropriate combination for you, note the plant dormancy times and functionality to achieve the look you're after.
Examples of plants that can be used in Australian water gardens:
Decorative

Oxygenators

Emergent[2]
Bog[3]
Water lettuce
Elephants ear
Leafy Elodea, Egeria densa
Chaffey Saw Sedge, Gahnia filum
Irises
Ribbon Grass/Eel Grass, Vallisneria americana
Yellow Marsh Flower, Villarsia reniformis
Pickerel Rush
Swamp Ludwigia, Ludwigea pallustris
Common Nardoo, Marsilea drummondii
Tassel Cord Rush, Baloskion tetraphyllum
Lemon Bacopa or Water Hyssop, Bacopa caroliniana
Ribbon Grass/Eel Grass, Vallisneria americana
Swamp Mazus, Mazus pumilio
Water Hyssop, Bacopa monniera
Lemon Bacopa or Water Hyssop, Bacopa caroliniana
Swamp Everlasting, Xerochrysum palustre
Upright Water Milfoil Myriophyllum crispatum
Upright Water Milfoil Myriophyllum crispatum
Carex spp
Hornwort / Foxtail, Ceratophyllum demersum
Hornwort / Foxtail, Ceratophyllum demersum
Knobby Club Rush, Ficinia Nodosa
Common Water Milfoil, Myriophyllum papillosum
Common Water Milfoil, Myriophyllum papillosum
Swamp Goodenia, Goodenia humilis
Variable Water Milfoil, Myriophyllum varifolium
Water Ribbons, Triglochin procerum
Broad-leaved Cat-tail, Typha orientalis
Water Ribbons, Triglochin procerum
Lotus
Water Lily
Notes:
[1] Not meant to be an exhaustive list.  Check whether they are suitable for your weather conditions/zone.
[2] The plants' roots are submerged but the foliage protrudes above the water level.
[3] These plants don't have their roots permanently under water, but grow in the water margins in the mud.
Hungry for more information on picking the right water feature for you and other aspects of the article above?
Then check out the following write-ups which could assist!
Australian Native Water Plants
In the meantime, visit my past projects below which also squeezed in some beautiful water features!
Doncaster - water feature view
Follow us on social media