Jasmines – love them to bits!  Have a look around right now and they should be at their flowering best.  I'm writing this from my deck where I've surrounded myself with the variety of my choice.
Reminds me of home. Reminds me of my childhood experiences.  Can't go wrong with a scented garden!
There are many species and styles of jasmine available.  The biggest difference between jasmine varieties is their growth habit. The most well-known types are vines but there are shrubs available.
Here's some insights into which ones will suit your garden needs.
Jasminum Polyanthum - vine
This jasmine can usually be found in florist shops and trained on a trellis. This variety can grow quite vigorously and be invasive. So make sure that you've checked with your council's list of accepted plant species and that you've comfortable with the high maintenance required.
We've used this one in our Surrey Hills project as the design brief was to get a variety that would green up the trellis work we put into place, within 2-3 years.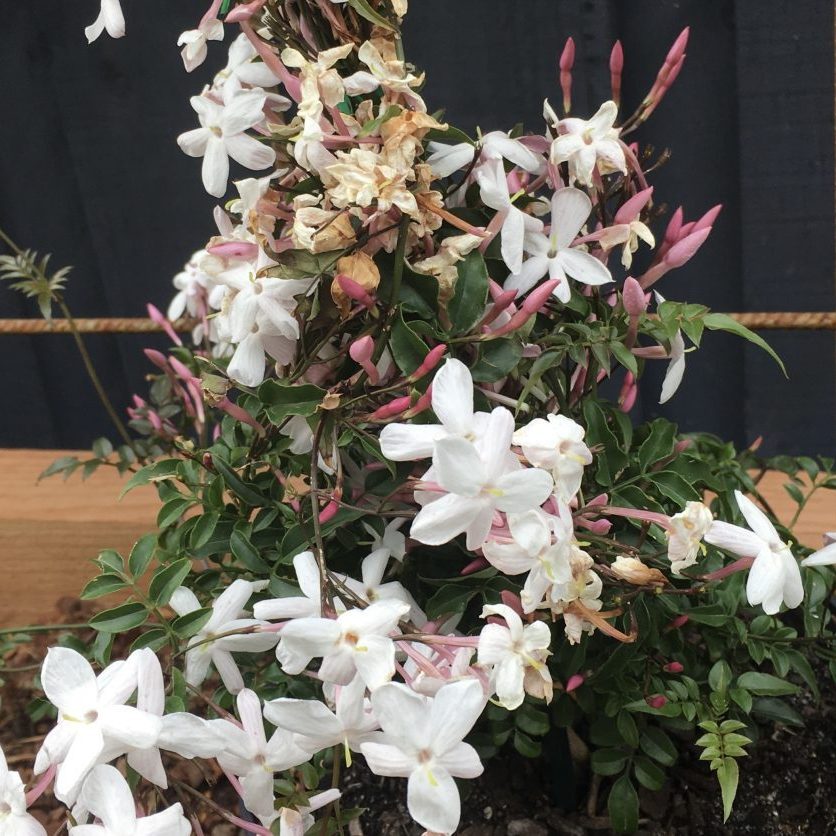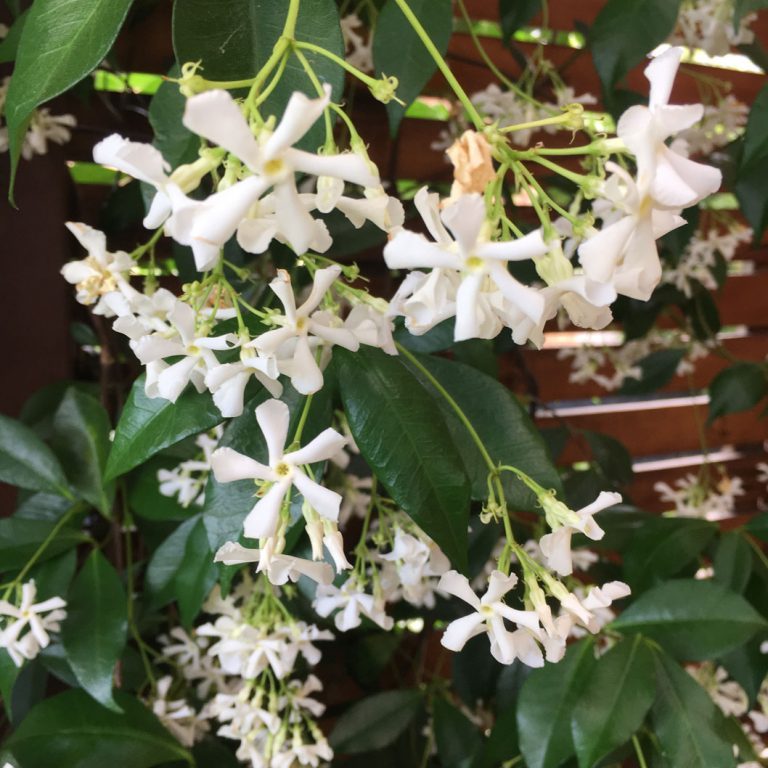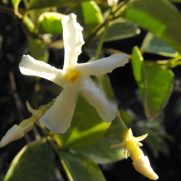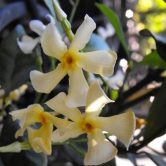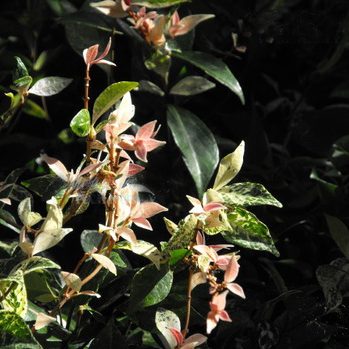 Trachelospermum Jasminoides - vine
The stems of the Chinese Star Jasmine will climb over supports and cling to walls, fences, pergolas and hard surfaces with great ease and abandon. Makes great ground cover for larger areas. If you have a courtyard, it's the pick of all climbers. When grown indoors, it'll reward you with fragrant blossoms if given at least a few hours of sun in winter.
Whilst technically an evergreen,  I find that it's semi-deciduous in Melbourne's climate.  I love how some of its leaves turn red in winter, adding colour to your winter garden.
Maintenance wise, it's a slow to moderate grower so I personally find this variety easier to manage in the long-term than the polyanthum species and attracts fewer bees.
Look out also for Trachelospermum asiaticum and the variegated jasmines, Trachelospermum jasminoides 'Variegata' and Trachelospermum jasminoides 'Tricolor'.
Jasminum multipartitum - vine
This is an unusual variety and quite difficult to source.  It's perfume is relatively mild but is a good solid performer.
We've used this one in our Hawthorn project as the design brief was to get a variety that would green up the trellis work we put into place, within 2-3 years and withstand the extreme summer temperatures in the courtyard.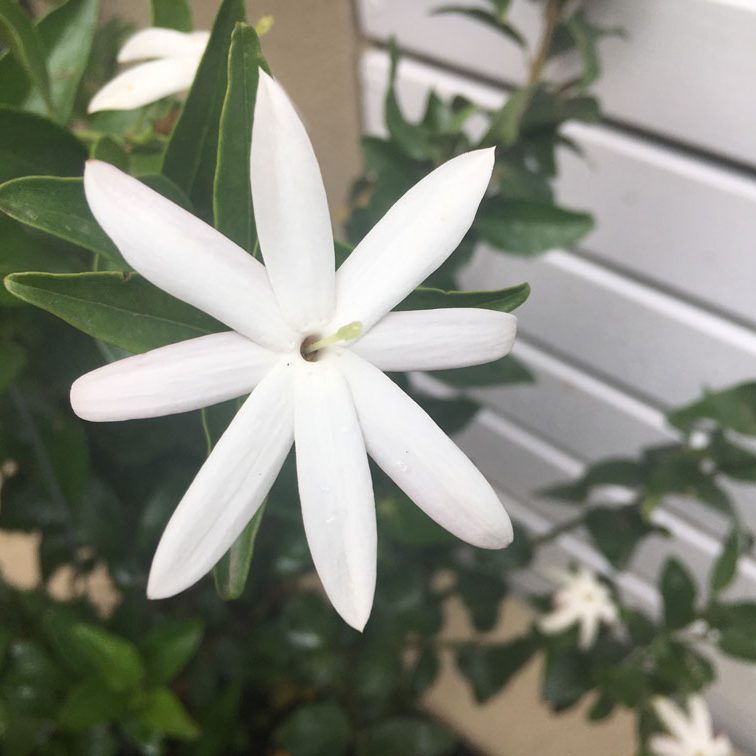 Jasminum mesnyi - vine
The vine of the primrose jasmine grows probably half the size of the other vines.  It's got yellow flowers.
It's a winter-flowering scrambly shrub or slender-limbed climber.
Jasminum suavissimum - vine
Sweet jasmine is an Australian native jasmine that flowers late winter to summer.  They are dry-tolerant.
It's easily sourced from local native plant retailers.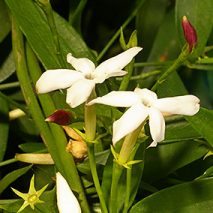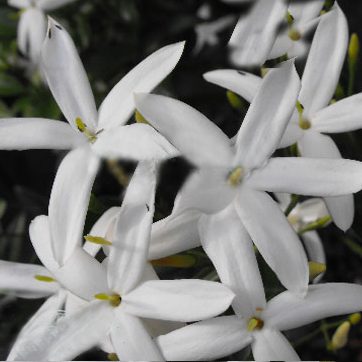 Jasminum azoricum - vine
The Azores jasmine has glossy green leaves with white star-shaped flowers  up to 50mm across.
They start off as deep pink buds and appear from autumn to spring and will spot flowers at other times.
It is a fast growing vine but also if allowed will form a large 2 metre shrub. The leaves are glossy green and are evergreen.
Protect from frosts.
Jasminum nitidum - vine
The Angel Winged jasmine is grown for its flowers and glossy foliage.  Frost sensitive.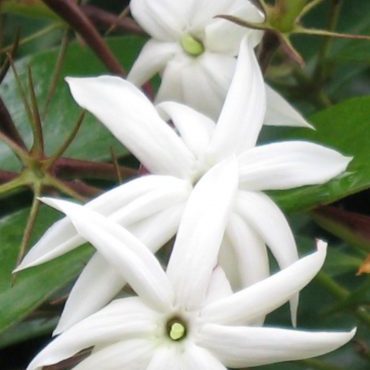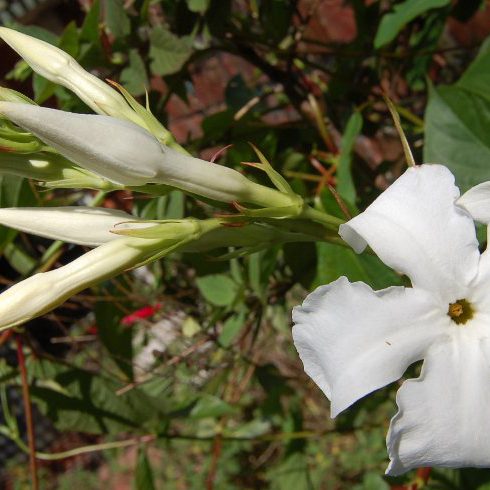 Mandevilla laxa - vine
Not a true jasmine but has a jasmine like scent at night.
Deciduous in Melbourne, the Chilean jasmine flowers throughout summer and autumn.  It can tolerate frosts down to -6°C. If it is damaged by the cold, cut back completely and it will re-shoot from the base.
This plant is a registered weed in some areas. Check with local guidelines before planting.
Stephanotis floribunda - vine
The Madagascar Jasmine has delightfully fragrant white waxy flowers that appear from spring through to late summer. The leaves are deep green and succulent like and evergreen. The flowers are used often for arrangement and do well in a vase.
Its frost sensitive so more suitable to Sydney to be honest but it's making a strong appearance in a lot of inner courtyards and wind/frost protected positions in Melbourne.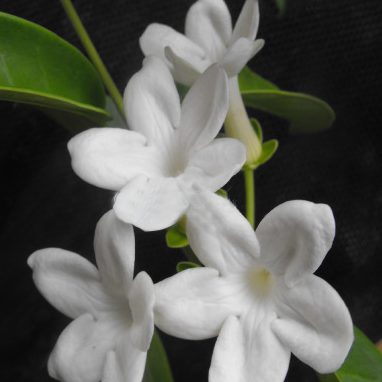 Jasminum Sambac - shrub
It is also commonly known as Biblical or Arabian jasmine.
While this species of jasmine is generally marketed as a shrub, it can actually be trained as woody vine as well because of its loose, sprawling habit.  In warmer climates, you need to keep prune this regularly to keep it in shape to prevent them from getting too gangly.
It flowers the heaviest in summer. It is apparently OK to grow indoors in a pot but I haven't tried.  It is very frost sensitive though.  Mine perished after a couple of winters even though it was in a protected spot.
I grew up with a variant of this jasmine, the Grand Duke of Tuscany, it thrives in the Malaysian climate.  It's perfume in probably the best of all jasmines, in my view.  One of its flowers can easily outperform a fistful of the other types mention in this blog.
It has a cultural and religious significance.  It is used by some communities for their religious activities as offerings in their prayers and as flower garlands or hair adornments during weddings and other auspicious occasions.
Love finding cultural significances in what I do!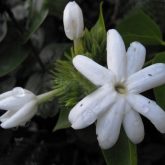 Note of caution – as with most scented plants, any form of jasmine will attract bees.  If you or any of your loved ones are sensitive to bee stings,  I'd suggest that it's just something you need to factor in.
Also, in general, jasmines are highly toxic to cats and dogs (if ingested).
Hawthorn East Rear Courtyard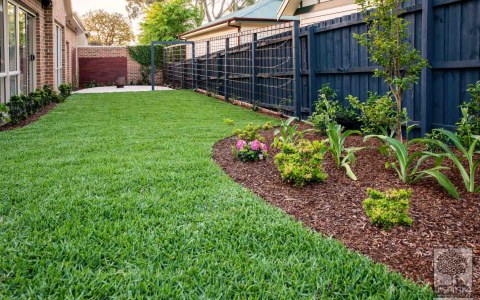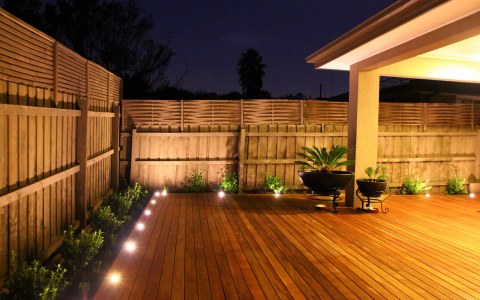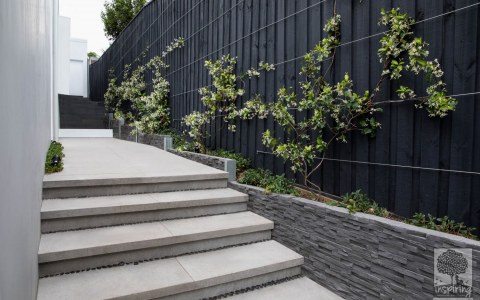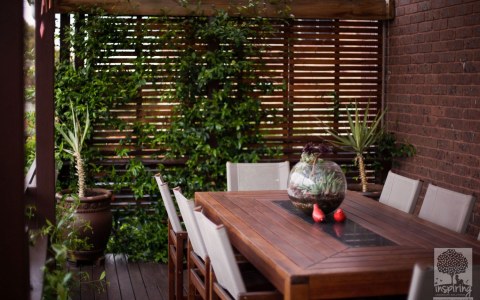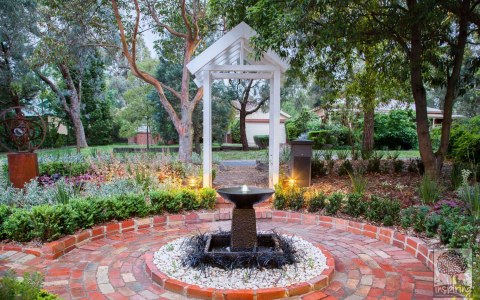 If you need further garden advice on plant health, garden maintenance or design tips for both indoors and outdoors, please contact us for an onsite 90 minute consultation. 
Refer to our packages for further detail on how we can help you in the consults and subsequently throughout your garden implementation process.
Our passion your garden! xx
Follow us on social media