If you think of your home as your 'castle,' your driveway is the entrance.  It 'welcomes' you home every day. Because of this, it needs to be something you enjoy looking at and, ideally, needs to be low maintenance, as many of us are time-poor these days. Your driveway is a prominent feature of your house, so it's a crucial decision.
These days, you're spoiled for choice in the type of material you can use for driveways. Going back a decade or so, the only options you had were asphalt (road base), plain concrete, paving, or gravel.  What type of material you choose for your driveway may ultimately come down to price, so knowing your price range before you start looking will make it easier for you.
Selecting a suitable material will be crucial and adds value to your property.  Good drainage is vital, and you may also need to see if there are any specific drainage/permeability regulations in your areas. You certainly don't want to get a new driveway and then find out that you must rip it all up as it doesn't meet the requirements.
Paving
Paving used to be the popular choice for driveways. Asphalt was practical but something that needed to be resurfaced when it wore down, and aesthetically it wasn't an option most people went for.
The three main types of paving used were stone, clay (brick), or concrete. These days, high end houses still have paved driveways as they give off a "high-end look" and have "curb appeal."  But you'll also have to pay a "high-end price." They take longer to lay than other pavers, adding to your labour costs. So you'll have to weigh whether you want to fork out the dollars.
The materials have evolved with this option with the availability of cobbles, crazy paving, or larger porcelain pieces.  Intricate brickwork is not usually designed unless it suits the house's character and surroundings.
Benefits of Paving
The benefits of natural stone paving are that they're hard-wearing and long-lasting, with some lasting up to a century if they're appropriately laid. In addition, they won't fade in sunlight and tend to look better with age. Finally, with their curb appeal, they can also add value to your property.
Paving stones, sourced from quarries around the world, can be relatively eco-friendly. If possible, use local rocks that have been harvested nearby.
Maintaining Your Pavers
With natural stone paving, you'll need to keep the maintenance up for weeding as the grout between the pavers does wear down over time.  This is an essential routine as otherwise, it severely detracts from the aesthetic that is trying to be created.  
The other key thing to remember is that paving needs to be pressure cleaned & sealed at least every couple of years to ensure the driveway looks good over time.  This is where a lot of people falter, and as a result, the paved driveway will not look good over time.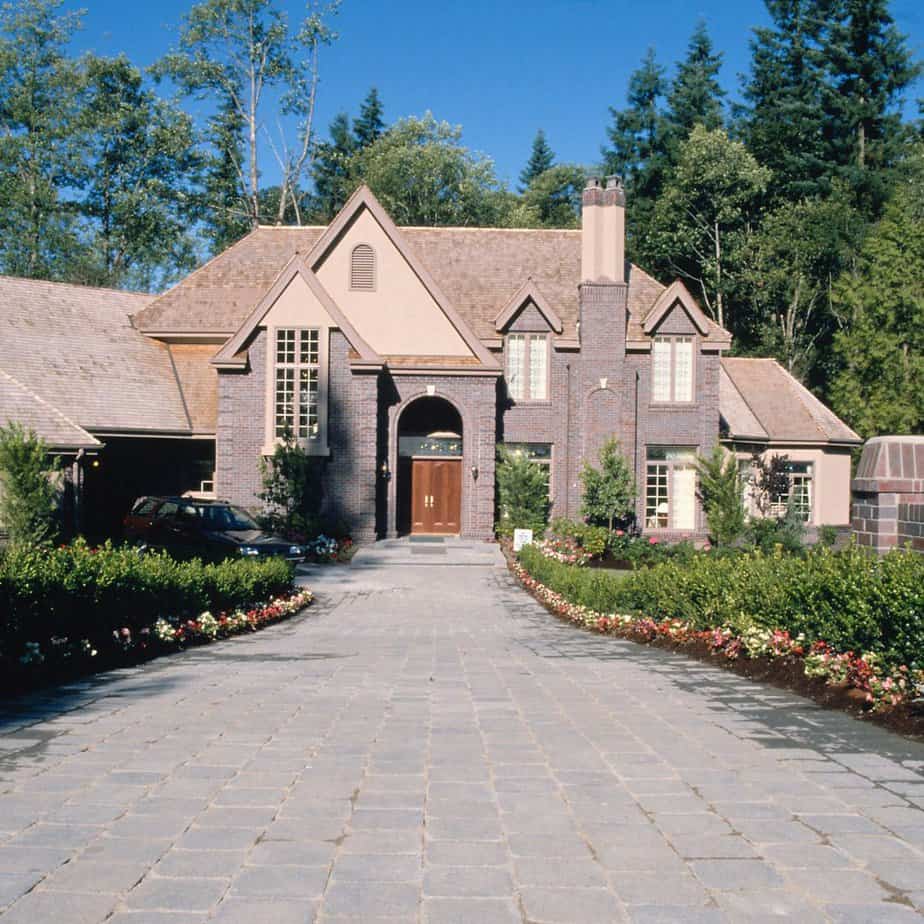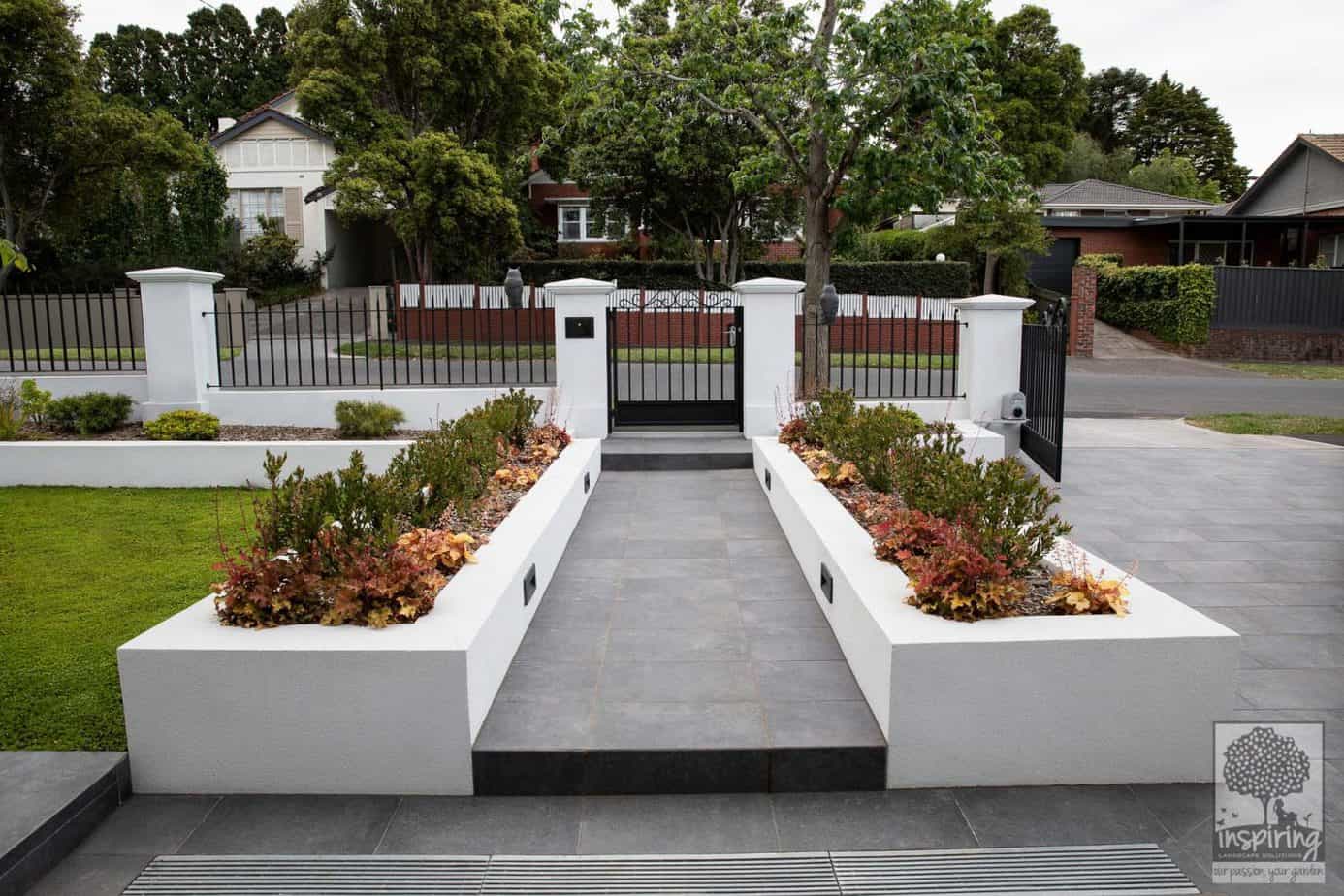 It should be noted that porcelain is not natural stone and will retain more heat (generally compared to the natural stone of the same depth) but is easier to maintain as it doesn't need to be sealed.  It is just a pressure wash and cleans whenever it looks like it needs it, so some clients choose this option over natural stone.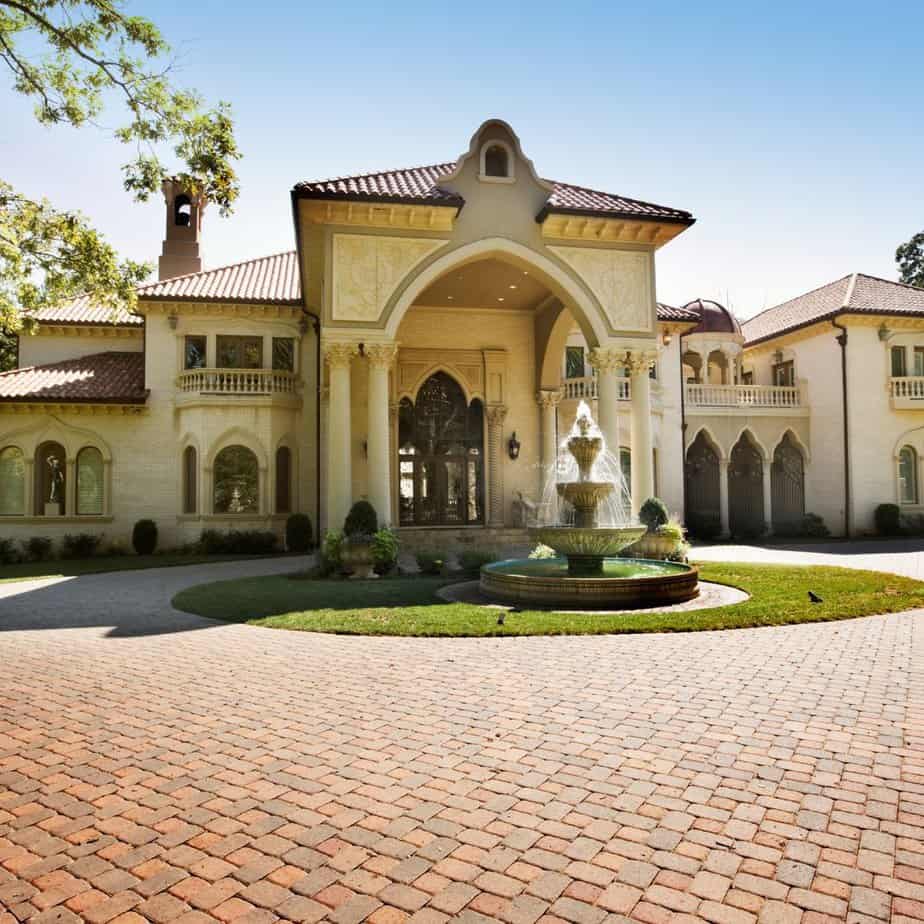 Clay (Brick) Pavers
Fashion comes and goes, and this is even the case with pavers. Buyers fell out of love with clay pavers a while back, but they now seem to be back in fashion again. They're naturally fired in a kiln, and they have more of a rustic look which can often suit older looking houses. They are generally more expensive than concrete pavers but cheaper than natural stone (per square meter).
Clay has the benefit of not fading, so you won't need to replace them to lose its colour, and they also last for decades. One downside is that they can be prone to moss, so speaking to an expert about how you can keep on top of that so it doesn't get out of control would be a good thing to do.
Permeable Pavement Options
Permeable pavement can be an essential tool for the retention and detention of stormwater runoff. It may provide additional benefits, including reducing the need for de-icing chemicals, and providing a durable and aesthetically pleasing surface. 
The most commonly used are:
Pervious Concrete – Concrete with a high void content allows water or air to permeate.
Porous Asphalt – Porous material offers many great environmental benefits as it allows water to drain through it, returning water naturally and helping to manage stormwater runoff and drainage problems.
Permeable Interlocking Concrete Pavers – Solid concrete paving units with joints that create openings in the pavement surface when assembled into a pattern. This allows water to enter the surface freely.
Plastic and Concrete Grids – Provide a green solution for erosion. environmentally friendly, allowing water to enter the ground rather than stormwater systems.
Pros and Cons Of Using Permeable Pavement
Advantages:
With many of us trying to be more self-conscious of being environmentally friendly, permeable payment can be made using recycled materials. This also helps with reducing landfill space.
For those who live in colder areas of the country, you won't find any ice formation on your driveway as any water and precipitation seeps through the pavement.
On the other hand, in the summertime, your pavement will stay cool due to the spread of water and precipitation. Additionally, its lighter colour also helps in the same.
Disadvantages:
It's generally more expensive to install compared to traditional options
It does require a fair bit of maintenance. It is prone to clogging if the water in the tank isn't drained out effectively. The sand and small particles that block the area between the pavers must be extracted using a vacuum cleaner. 
It can even block when you sand for ice during the wintertime. If you do not accommodate blocking swiftly, it will cause the water and toxins to run off the surface area, eliminating the purpose of setting up permeable pavements.                 
Concrete Pours
Plain and Painted/Stencilled Concrete
Concrete provides a smooth, stable, and secure foundation that holds up well in any climate. Again, you're spoiled for choice with various mixes, and colours available. As discussed above, it has the bonus that it's usually cheaper than paving your driveway.
At the base level, the driveway can be plain concrete, where the top layer is not washed off to reveal the aggregate/stones within its mix/composition.  It's finished with a rough finish eg. a stippling effect so that it's not smooth and slippery.
It's a simple look that can also be personalised and updated with driveway paint (with roughage) if you wish.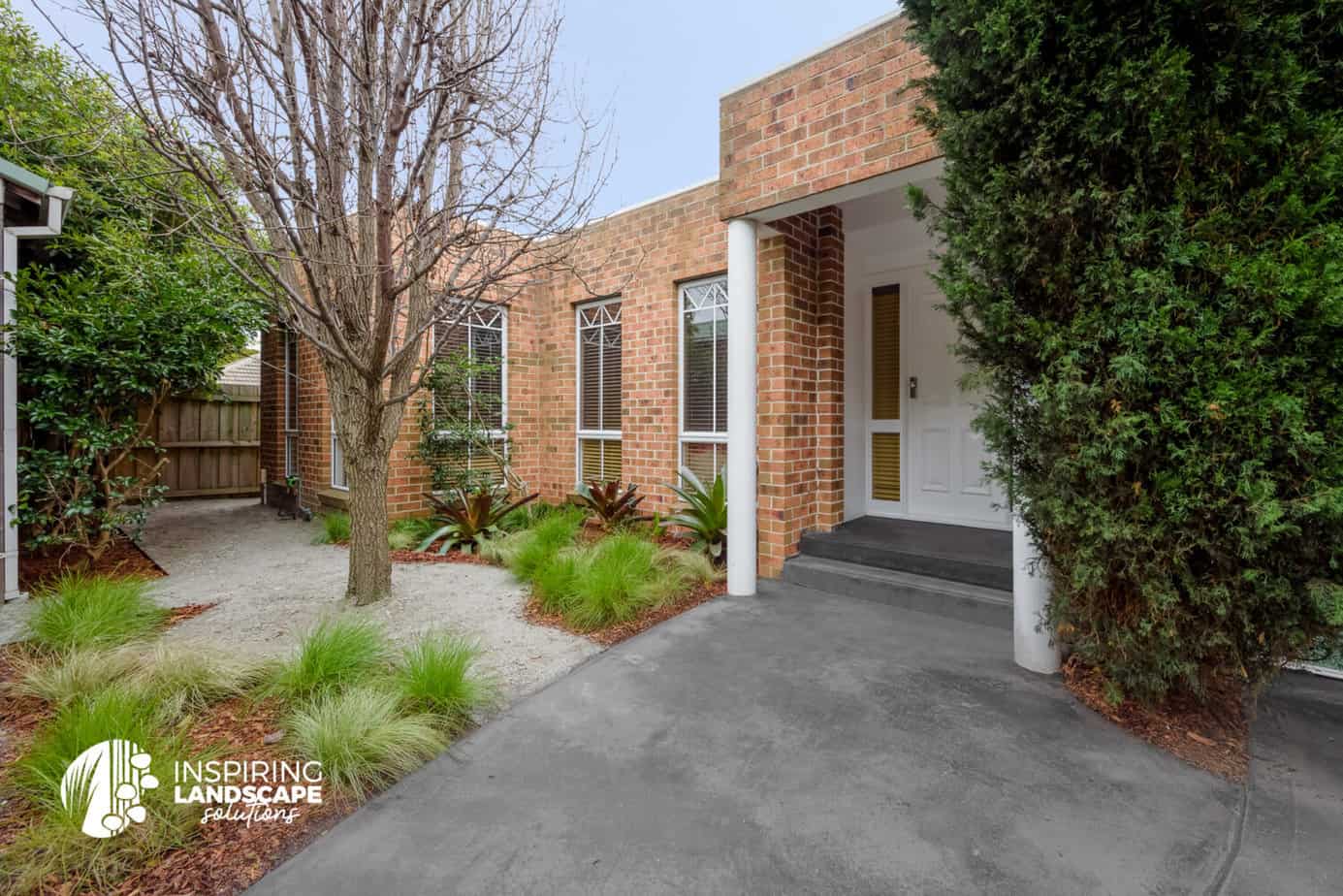 This option also allows for stamping/stencilling part of the driveway if you'd like to introduce some patterns onto an otherwise "boring" and plain surface.  Some may say this option is outdated but it's a ,personal choice and can suit some clients/designs.
Maintenance
From a maintenance perspective, like the paved driveway option, you still need to pressure wash, clean and seal every couple of years. This is not a maintenance aspect that you can forgo if you like your driveway to look good over the long term.
While concrete can last a long time, the downside is that the colour of the plain concrete option will eventually start to fade, so you'll need to consider whether you'll still like the faded look. But, on the other hand, you could update it with paint as described above if you wish.
If having an environmentally friendly driveway is crucial to you, then there may be a better way to go, as cement is one of the most significant contributors to carbon dioxide emissions (CO2).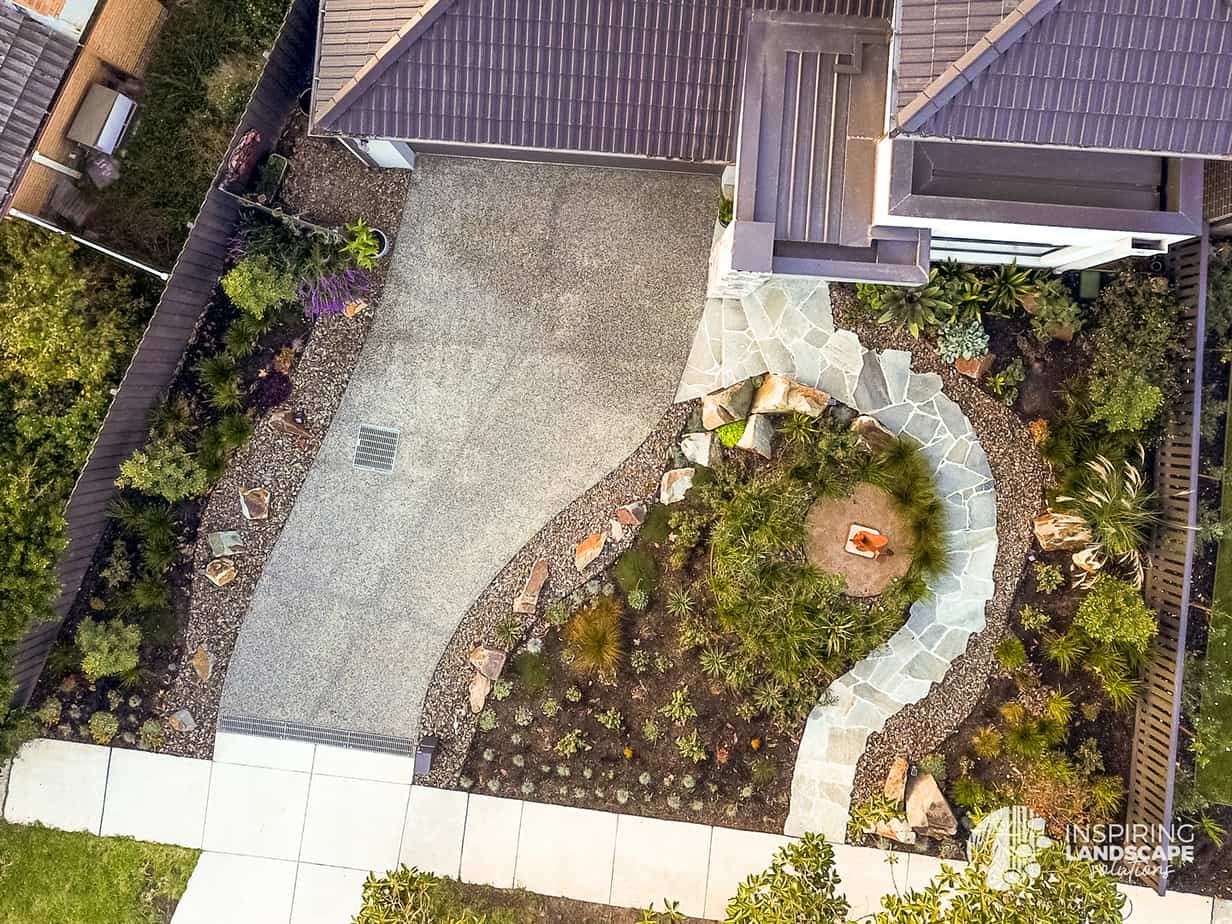 Aggregate Concrete
This is a modern option that most people go for with slight modifications as required (eg mixing it up with paving, brickwork etc.).  It looks good and suits most houses, from the most contemporary to the most traditional.  
The key difference with the plain concrete pour option, as mentioned above, is that the finished result of this option reveals the aggregate/stones that you have chosen after washing off the top layer of the concrete, ie. you select the colours of the stone mix.  This layer is sealed.  
The base concrete colour is another variant that you can choose – the dark/greyer bases are less expensive than the lighter coloured ones (which were very popular in the '80s). 
The cost of an aggregate pour driveway is more than the plain concrete pour option but would be less than having a fully paved driveway, mainly due to less labour time.  
The trend tends to be blacks/greys presumably because of the perception that it shows less dust/dirt and is "easier" to maintain but lighter colours are making a comeback.
Maintenance
From a maintenance perspective, irrespective of the colour base (dark or light) or mix (stones) you use, I can't stress enough, you still need to pressure wash, clean and seal every couple of years. This is not a maintenance aspect that you can forgo if you like your driveway to look good over the long term.
Grassed/Turf Grid Driveways
Grass block pavers, which can also be known as turf block pavers or grow-through pavers—are an alternative to traditional options. They can be made from concrete or recycled plastic. They have open cells that allow grass to grow through them. At the end of the day, they're an eco-friendly option for driveways.
The turf grid is a simple solution to control soil erosion around your home. They're great for slopes where you need to stop erosion. Let's take a look at the pros of using this option for your driveway:
They reduce stormwater runoff which is one of the biggest sources of water pollution. The grass and soil in your grow-through pavers will filter out the pollutants, so the water that returns to the earth is clean.
They're definitely easier on the eye than slabs of concrete.
As they absorb water, grass block pavers slow down the water that races over pavement in a rainstorm, preventing erosion.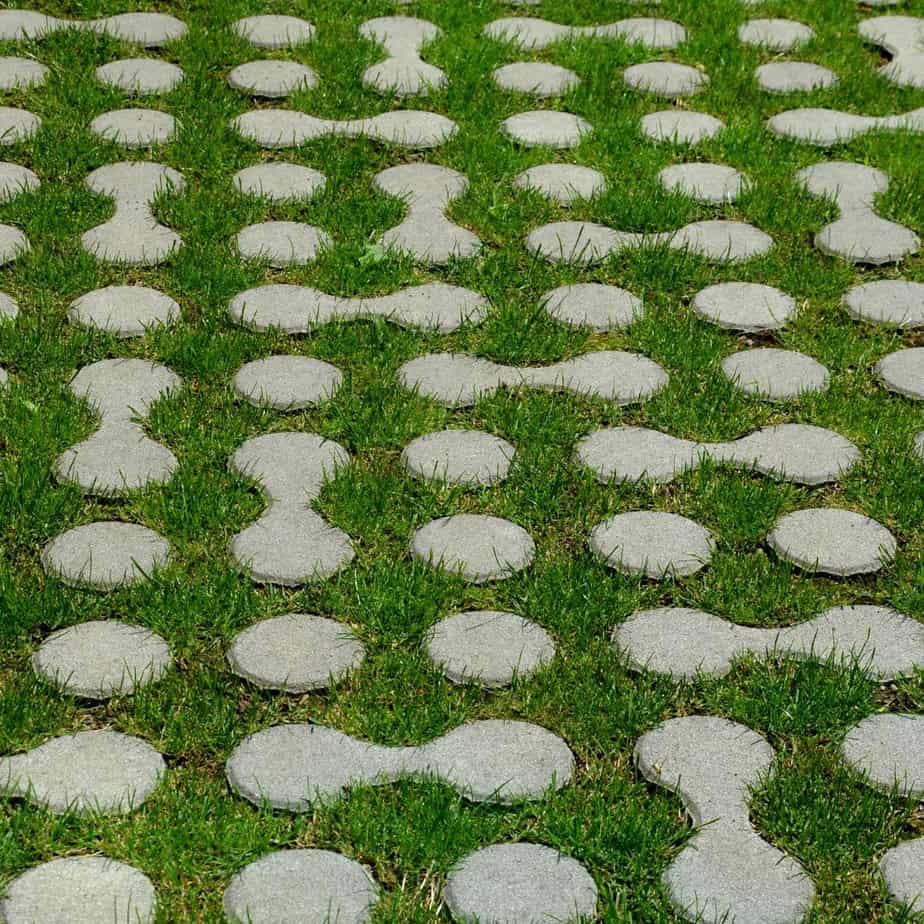 With everything that has advantages, there are bound to be some disadvantages as well so let's take a look at the cons of having grass and turf block pavers.
Where you find grass you're likely to find weeds, so there is maintenance when it comes to this option. You'll need to water, mow and maybe fertilise
If cost is a factor then this eco-friendly option may not be for you. They can cost up to double the price of asphalt.
They'll need to be replaced every 10-15 years and cracks may need to be patched up.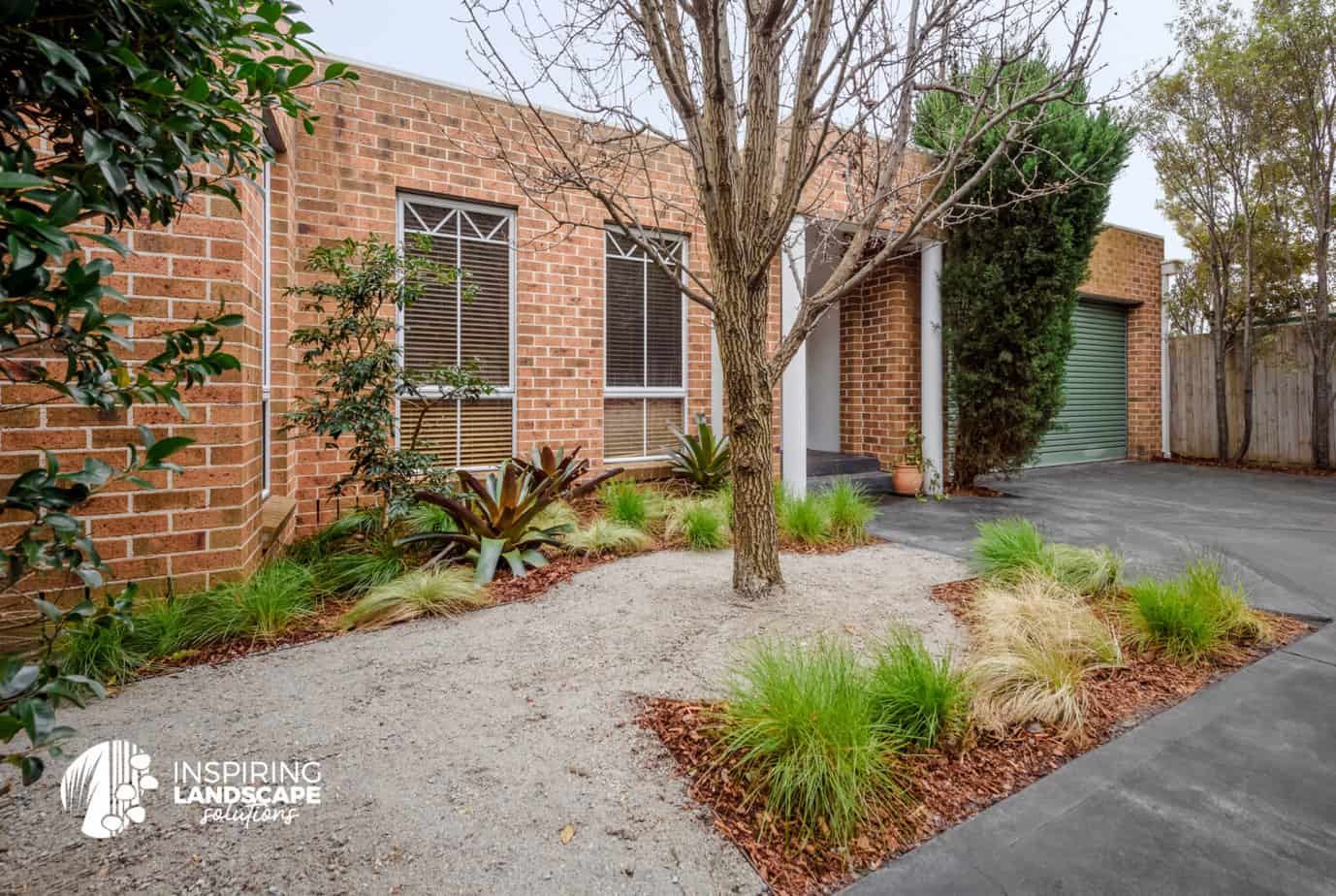 Toppings Driveways
Toppings is essentially a composition of gravel/screenings/pebbles, dirt and cement so it hardens up like concrete after a few rains.
Like the gravel option further discussed below, this is a very cost effective option but falters when it comes to maintenance and aesthetics (unless you're after a more natural rustic style). It is a practical option but won't give you curb appeal if that's what you are after. 
It's low maintenance in the sense there will not be weeds coming through the bottom of the material, given the cement mixed in but will have weeds/algae growing on it over time.  So like the gravel option below, it needs to be weeded on a routine basis to keep it looking the best.
It's also a stable surface that sheds water quickly so it is "permeable".  It can easily be refreshed with a 'top-up' application once the material has settled or if it requires refilling after some time – that's usually every 2-3 years to keep the driveway looking good.
Gravel Driveways
Out of all the materials we mention today, gravel is the cheapest driveway material (in the short term). It's a natural product that can be reused and can also be a reusable choice. In addition, gravel has many benefits, lasting up to 100 years, and is an excellent option for budget-conscious buyers. 
It's low maintenance, with raking over it once a week to keep the weeds at bay, so you can see if it's sunk in any areas. It's a stable surface that sheds water quickly. It can easily be refreshed with a 'top-up' application once the material has settled or if it requires refilling after some time.
The downside of gravel driveways is that it's VERY prone to weeds as more people are not great at raking it often or weeding the weeds out as they occur, not great for pushing a pram, and DEFINITELY do not work if you're wearing high heels after a night out 😉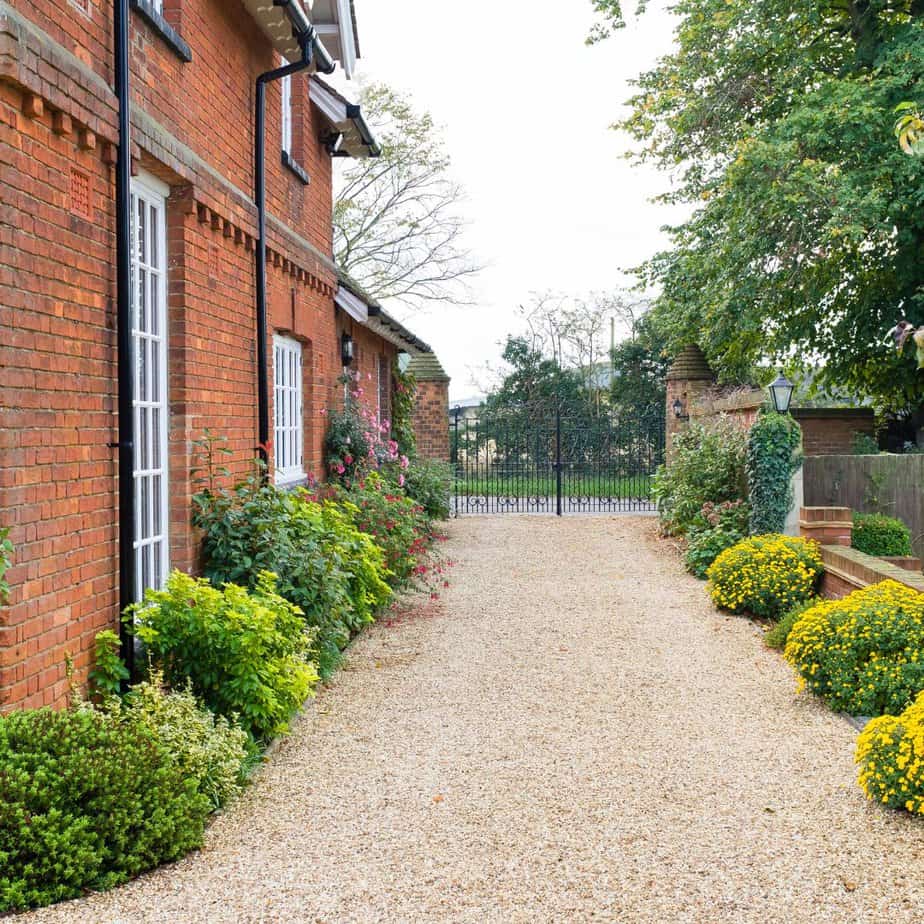 Conclusion
So now all you have to do is decide what type of driveway you want for the entrance to your "castle."
For more information on paving have a look at our earlier articles here:
Paving in landscape design and construction
If you need further suggestions or design or plantscaping both indoors and outdoors, please contact us for an onsite 90 minute consultation. 
Refer to our packages for further detail on how we can help you in the consults and subsequently throughout your garden implementation process
Our passion your garden! xx
Follow us on social media